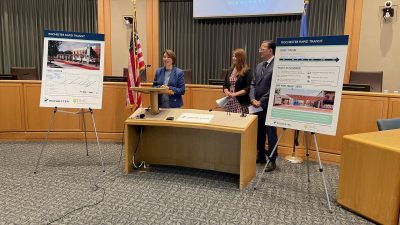 "My announcement today is that all lights are green when it comes to this important rapid transit bus project for the city of Rochester," said U.S. Senator Amy Klobuchar last Friday at a press conference at the Rochester Government Center.
Senator Klobuchar was joined by Rochester City Council President Brooke Carlson and Destination Medical Center Economic Development Agency (DMC EDA) Executive Director Patrick Seeb.
She highlighted the project's potential impact to the city's fabric of caregiving, as well as the high-level federal interest in it. In May of 2021 it was announced that the Federal Transit Administration (FTA) had rated the project as "Medium-High." Her former presidential debate stage mate, U.S. Transportation Secretary Pete Buttigieg, included $56 million for the project in his proposed $2.5 billion budget for 2022. These "breadcrumbs," as she called them Friday, are why the senator sees green lights.