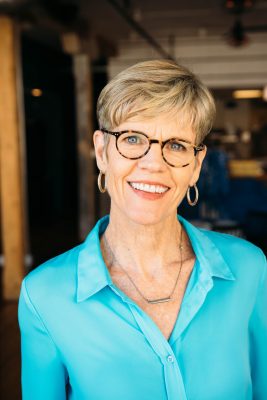 Clarke has led the initiative to transform Rochester, Minn., into a global destination for health and wellness since its inception
Lisa Clarke, executive director of the Destination Medical Center Economic Development Agency (DMC EDA), today announced that she has made the decision to retire, effective Jan. 4, 2021. Since 2014, Clarke has led Minnesota's largest public-private economic development partnership in its mission to transform the city of Rochester, Minn., into a global destination for health and wellness and a key economic development asset for Minnesota. Patrick Seeb, DMC director, economic development and placemaking, has been appointed by the DMC EDA Board to succeed Clarke.
"Lisa has been the foremost champion for the DMC initiative," said DMC EDA Board President Jeff Bolton. "Through her leadership and enthusiastic collaboration with business partners, legislators, developers and entrepreneurs, DMC has made great progress on its 20-year journey to realize Rochester's full potential as an economic engine for the region and state.  Although we will miss her daily involvement, we are pleased that she will continue as an ambassador for DMC and the city."
Since 2010, Clarke has been involved in all facets of the DMC initiative that included significant planning and research. In 2013, Clarke led a team that marshaled a proposal calling for public funding to augment private investment in the transformation of Rochester through the Minnesota Legislature, ultimately winning approval for the 20-year, $5.6 billion initiative, the largest public-private partnership in Minnesota's history. She built the first DMC EDA nonprofit organization and hired an experienced staff. Additionally, Clarke worked for two years with urban planners to solidify a development plan creating six integrated sub-districts in the city's downtown core and to set a long-term strategy for attracting people, investment and jobs to Rochester and the region.
"At the core of DMC's success is Lisa Clarke's early vision and relentless energy over many years," said R.T. Rybak, chair of the Destination Medical Center Corporate Board. "Her exceptional contributions will pay off for Rochester for years to come."
During Lisa's tenure as DMC EDA executive director, Mayo Clinic and private developers invested nearly $1 billion in development projects – from mixed-use housing to major hotels and One Discovery Square, a business and research complex now occupied by a range of international biotech and healthcare companies and the University of Minnesota Rochester.
"I am grateful for Lisa's boundless energy and dedication to the DMC vision for Rochester's growth," said Mayor Kim Norton. "She has been at the table to address critical issues in the community and she continues to advance projects and programs to ensure Rochester's future. The selection of Patrick Seeb as DMC EDA's new executive director ensures continued leadership and continuity as we move forward."
A search will be conducted to fill Seeb's current position. Prior to joining DMC, Seeb served for 20 years as executive director of Saint Paul Riverfront Corporation, where he worked with partner organizations to transform St. Paul's riverfront and light rail corridor supported by more than $4 billion in public and private investment. As he assumes the executive director role, Seeb will continue to build relationships with private developers and serve as DMC's point person on current projects, including downtown Rochester's Peace Plaza, Discovery Walk and Rapid Transit Initiative.
Clarke's professional accomplishments and involvements are numerous. The Minneapolis/St. Paul Business Journal recognized her with its 2019 Women in Business award; and Twin Cities Business recognized Clarke as one of its TCB 100 Minnesotans to Know in 2020. Under her leadership, Finance & Commerce recognized DMC EDA with its 2019 Progress Minnesota award; and the Minnesota Tourism Office, Explore Minnesota, honored DMC EDA with its 2019 Marketing Partner of the Year award.
Clarke is a member of the DMC EDA Board, Rochester Area Foundation, Collider Coworking, Rochester Arts and Cultural Trust, and the Minnesota Women's Economic Roundtable. She has served on community and regional boards, including the Southern Minnesota Initiative Foundation, Rochester Area Economic Development, Inc. (RAEDI), and the Rochester Airport Company. She is a past board chair of the Rochester Area Chamber of Commerce.
Editor's note:  Find headshots and bios of Clarke and Seeb and photos of Rochester's downtown core in the DMC EDA pressroom at https://dmc.mn/press-room/.