DMC could be taking physical shape in less than a year.

The law firm of Larkin Hoffman, which opened an office in Rochester about a year ago, hosts a Real Estate Forum each year. With the DMC initiative touted as the primary development project in the state, the Minneapolis-based group decided to hold this year's event in Rochester and make DMC the focus of their 2016 real estate discussion.
This third annual forum attracted nearly 150 players from the building and development industries. Mayo Clinic's Dr. Clark Otley, who is also vice president of the DMC Economic Development Agency, delivered the keynote address and illustrated for the audience how the buildout planned for Discovery Square will strengthen Mayo Clinic's position in drawing patients worldwide. He also outlined the importance of improving traffic moving in and out of downtown Rochester. "To have a good city," he says, "you have to be able to move people efficiently."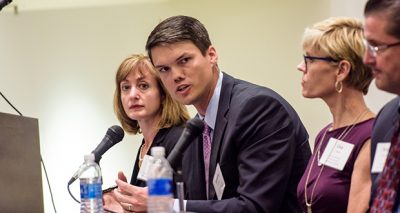 Otley's keynote was followed by an engaging panel discussion, which included Mitzi Baker, director of the Rochester-Olmsted Planning Department; developer Peter Gerrard, CEO of Gerrard Co.; Lisa Clarke, executive director of the DMC Economic Development Agency; and Mortenson development executive, Jeremy Jacobs. Mortenson is the organization selected by Mayo Clinic to develop their space in Discovery Square.
While Jacobs admits that the timeline for the development might be considered "aggressive," Mortenson hopes "to be moving dirt" by next fall. The company is working with Mayo Clinic to determine the ideal site for the first building in the project and expects to select an architect in the next 60 days.
After that, Jacobs says, "The dominoes will start to fall pretty quickly."
Discovery Square will encompass a six-block area of downtown Rochester with Mayo Clinic occupying approximately one-third. The bio-medical, research, education, and technology sub-district is a keystone to the DMC economic development strategy and expected to be complete in 2019.