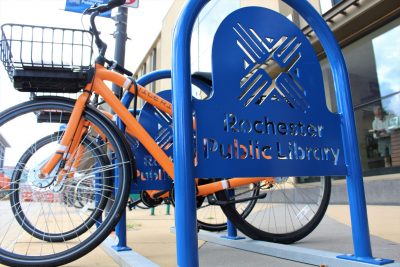 Ridership in Rochester's Bike Share program is at an all-time high. So far this year, bikes have been checked out more than 360 times, and organizers are already planning exciting changes for next year. The program allows anyone to borrow a bike, free of charge, from May to mid-October. This year, there are about 30 bikes available at three locations in downtown Rochester. Organizers also added a new electric-assist cargo bike to the fleet this year, available to borrow at the Rochester Public Library.
"We are extremely pleased at the response we've had to the bike program," said Keri Ostby, Head of Technical Services at Rochester Public Library and We Bike Rochester Board Member. "Though the bikes are used for recreation purposes by residents and visitors, they are often used as transportation for getting to work and shopping. The electric-assist Radpower Cargo bike is in high demand with the most common uses for the e-bike being errands, work travel, and appointments."
Beyond heavy usage from community members, visitors from states like North Carolina, Michigan, and Washington, and from countries, including Pakistan, Mexico, and India have made use of the program.