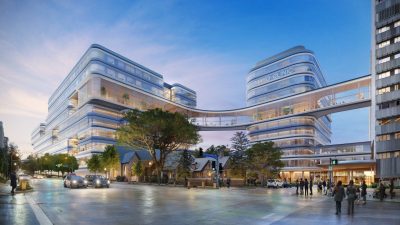 At Destination Medical Center (DMC), we are thrilled and inspired by the news that Mayo Clinic has announced a $5 billion dollar commitment to expanding its Rochester campus as part of the Bold. Forward. Unbound. in Rochester initiative. This is a historic moment for Mayo Clinic, the city of Rochester, Olmsted County, the state of Minnesota, and DMC. Mayo Clinic's newest commitment to the city demonstrates the success and impact of the 20-year economic development initiative first authorized by a bipartisan group of Minnesota legislators and the Governor in 2013.
Not only is this the largest investment in Mayo's 160-year history, but it is also the largest public or private investment in Minnesota's history!
DMC was created to position Rochester as a global destination for health and wellness, and to support Mayo Clinic's vision of transforming health care for the benefit of patients and society. Through DMC, we are leveraging public and private investments to create a vibrant, welcoming, and livable city that attracts talent, innovation, and visitors from around the world and solidifies Rochester as America's City for Health.  Mayor Norton, in her remarks at the announcement, credited the DMC initiative as helping to "set the stage for this transformational project, in Rochester."
Through 2022, approximately $200 million of public investment through DMC has helped attract nearly $1.5 billion of private investment from Mayo Clinic and other investors. Estimated job growth related to these initiatives total nearly 8,000 thus far. New public spaces supported with DMC funding include Discovery Walk, Heart of the City, and forthcoming Soldiers Field and riverfront redevelopment projects.
DMC successes through its first decade have helped create the conditions and opportunities that support Mayo Clinic's new multi-billion-dollar commitment. Mayo Clinic's Bold. Forward. Unbound. in Rochester initiative will expand its clinical, research, and education facilities in Rochester, enhancing the patient experience in addition to its ability to deliver world-class care and innovation to patients while advancing its mission of inspiring hope and contributing to health and well-being.  According to Mayo CEO, Gianrico Farrugia, M.D., the Unbound project will blur "…the lines across hospital, clinic, and digital care to help our teams anticipate our patients' needs, accelerate more cures and greater connection to our patients."
Mayo Clinic's new commitment will also bring significant benefits to Rochester and the region, including:
Creating thousands of new jobs and generating new tax revenue for the state and local governments.
Attracting more visitors and businesses to Rochester, boosting the local economy and tourism industry.
Enhancing the quality of life and well-being of Rochester residents and Mayo Clinic patients and visitors, by providing more amenities, services, and opportunities for recreation, culture, and entertainment.
Strengthening Rochester's reputation as America's City for Health, and a model for sustainable and inclusive urban development.
As we celebrate this milestone, I want to thank Mayo Clinic for its leadership and partnership, and for its unwavering commitment to Rochester and Minnesota.  Minnesota Governor Tim Walz was explicit in acknowledging Mayo's decision to invest in Rochester…" it's not lost on myself, our administration or the people of Minnesota — you choose to make that investment in Rochester, Minnesota. You made a conscious effort as you looked elsewhere, where you could go, you said 'No, this is the best place."
I also want to thank the DMC Corporation Board, the City of Rochester, Olmsted County, and the State of Minnesota, and all our stakeholders and community members for their support and collaboration.
Together, we are enabling DMC to deliver on the vision and aspiration behind its inception and together, we will continue to make it a success.
I invite you to learn more about DMC and Mayo Clinic's Bold Forward Unbound initiative by visiting our website and following us on social media. I also encourage you to share your thoughts and ideas on how we can make Rochester an even better place to live, work, and visit.
Thank you for being part of this journey, and for your passion and enthusiasm for DMC and Mayo Clinic. I look forward to working with you as we embark on this new chapter of growth and transformation.
Patrick Seeb
Executive Director
Destination Medical Center