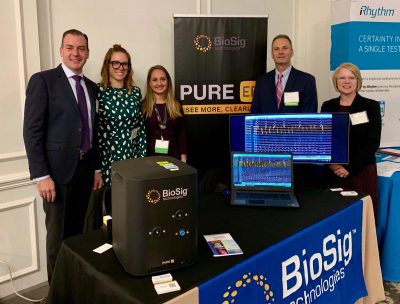 Leaders of Connecticut-based BioSig Technologies say the prospect of establishing itself in an emerging world-class hub for medtech innovation played a big part in driving their decision to open a new research & development facility in Rochester, Minnesota.
The 10-year-old, Nasdaq-listed firm announced Oct. 15 it has set up shop in the Discovery Square life sciences hub, one of the six development sub-districts comprising the Destination Medical Center (DMC) area in and around downtown Rochester.
Discovery Square's focus is leveraging the power of Mayo Clinic's global clout as a research powerhouse to spin off a thriving biotech and medtech start-up community, bringing together the scientific expertise, entrepreneurism and venture investment elements needed to establish the city as an attractive destination for emerging companies.
And in the case of BioSig, it all worked as planned. The firm had earlier established a scientific collaboration with a local expert — Dr. Samuel Asirvatham, vice-chair of innovation and medical director of Mayo's Electrophysiology (EP) Laboratory. Together they helped develop the PURE EPÔ platform, which uses proprietary technology to filter out electromagnetic interference from equipment in a typical EP lab to produce "cleaner" electrocardiograms needed for safer and more efficient catheter ablations, a quickly growing procedure to treat stubborn cases of complex heart arrhythmias.