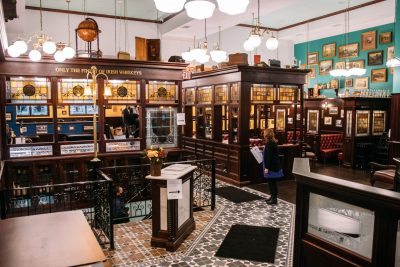 Even with a great location in downtown Rochester, opening a restaurant during a pandemic comes with plenty of challenges. For the staff at Olde Brick House, 19 1st Ave SW, those challenges happened to include advanced furniture assembly and metric conversions.
Inside the newly opened restaurant, "Everything that a customer sees was built over in Dublin, Ireland," says Paula Rathman, director of operations and general manager of Olde Brick House.   That includes the bric-a-brac, knick-knacks, light fixtures, booths, flooring, stained glass windows, mahogany trim… even the bar itself. These items were deconstructed and shipped across the pond in August, with a crew of Irish assemblers scheduled to follow shortly after. Due to COVID-19 travel restrictions, that team never made it and the staff decided to undertake the effort themselves.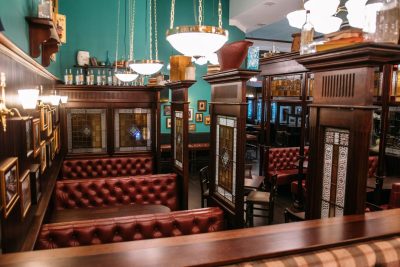 "Everything was metric. It was definitely a challenge between the floorplan and the layout," says Rathman.
As its detail-focused interior suggests, Olde Brick House was built from the ground up to be an immersive, cozy dine-in experience. From its 'snug' area (a private nook for friends to mingle in) to its dual taps of Guinness (because a proper pour takes 120 seconds), there's no shortage of authentic Irishness to get lost in.
The owners were initially attracted to Rochester because of its safe and wholesome reputation, according to Brian Ripley, Chief Operating Officer of Letnes Restaurant Group. Since the pandemic, other benefits have also become apparent.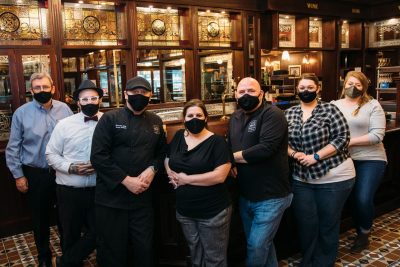 "The pandemic certainly does create challenges. But, downtown, everyone is safe by way of wearing masks and washing hands. We couldn't be in better place," says Ripley. "It's just so vibrant. There's always something going on, lots of people both locally, as well as from out of town. It's just a positive place to be."
As restrictions begin to ease, Rochester diners will get a chance to enjoy the hard-won ambience. Since it opened, the restaurant has been takeout, delivery or curbside only. Judging by the restaurant's growing reputation for bangers and mash, meatloaf, seafood chowder, rich burgers, and other delicacies that come out of their perforated takeout bags still steaming, they've done well.
"Olde Brick House adds a new, unique dining option for residents, employees, patients and visitors in downtown Rochester," says Patrick Seeb, Destination Medical Center Economic Development Agency Executive Director. "We welcome the restaurant to the Heart of the City and look forward to its authentic Irish atmosphere."