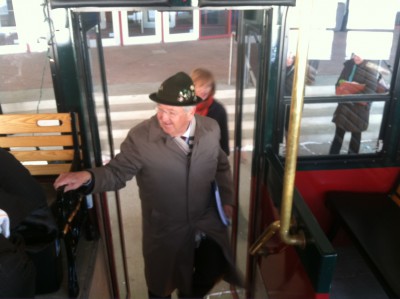 Two trolleys from the Rochester Trolley & Tour Company are making their way around downtown Rochester to give members of the Destination Medical Center Corporation Board of Directors an on-the-ground feel for how transportation improvements would affect traffic flow and where changes would be implemented.
The first infrastructural highlight included a proposed new bridge over the Zumbro River,  connecting 6th Street SW with 6th Street SE. Then it was on to the proposed site of the new University of Minnesota-Rochester campus between the People's Food Co-op and the Rochester YMCA.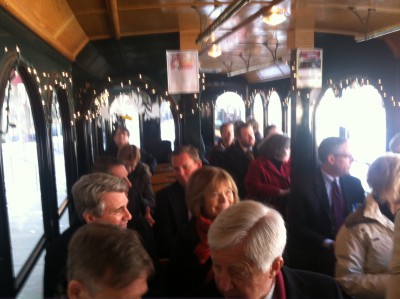 A drive through Historic SW gave board members and the visitors the context to understand why some residents of this neighborhood have expressed concerns over preservation of the single-family homes there. St Marys Park, a fixture of the historic neighborhood, is scheduled for improvements to increase use and accessibility.
From a traffic-flow perspective, the entrance to St Marys Hospital and staff parking was highlighted as frequently jammed with commuter traffic.
The Second Street Corridor, at the U.S. Route 52 interchange, received special attention from the tour as the location where Rochester has the opportunity to introduce the city and Mayo Clinic as motorists exit the highway to access the city.
"There are a lot of people who come downtown everyday, where we need them, but we don't need their cars. That's the opportunity for a park-and-ride."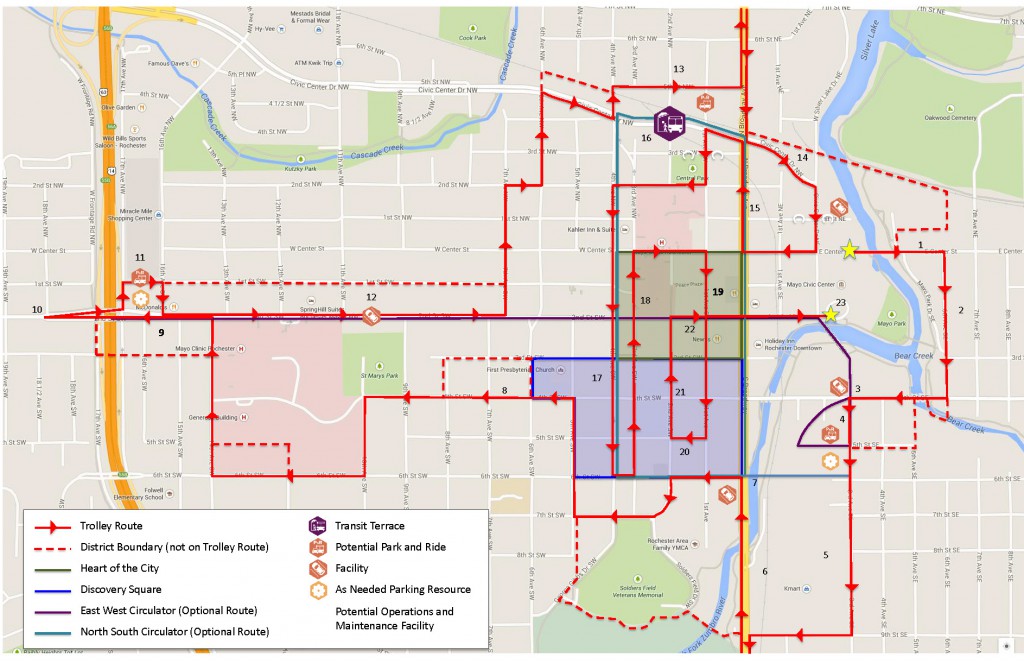 Onto Civic Center Drive, which is the district's highest traffic-flow street. At the intersection of Civic Center Drive and First Avenue is the site of a proposed transportation center, which could include up to 5,000 parking stalls, bicycle exchange facilities, and a rail station that would tie into the existing railroad infrastructure.
The rationale is to create a traffic destination, where commuters and visitors can drive close to their destination and then leave their cars in favor of more alternative modes of transportation. This would alleviate pressure on downtown traffic and parking, and open streets for easier pedestrian and bicycle traffic.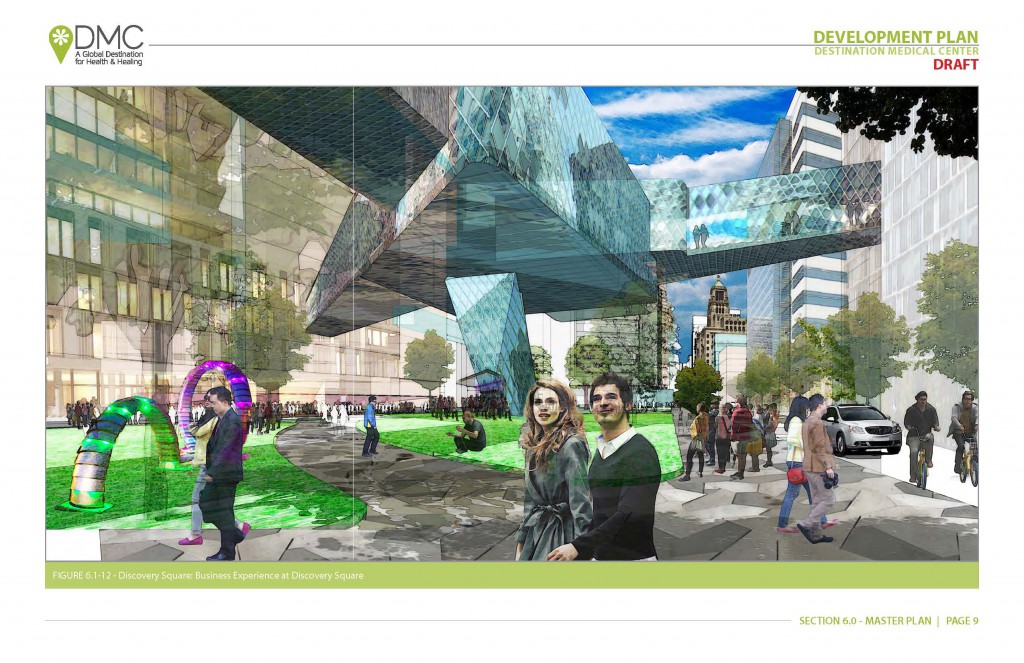 Driving past Discovery Square and toward the Gonda Building, guides asked the tour takers to envision much of the south parking lots and areas beyond the Hilton and Vincent A. Stabile Buildings. While nacent right now, the Discovery Square concept is generating a lot of interest from Mayo Clinic and Rochester as a way to grow high-value jobs and serve as an additional business anchor in downtown Rochester.
Turning south on First Street to the intersection with First Avenue, tour takers got an explanation of how renovations could improve traffic flow and make it easier for pedestrians and businesses to operate in this high-demand area.