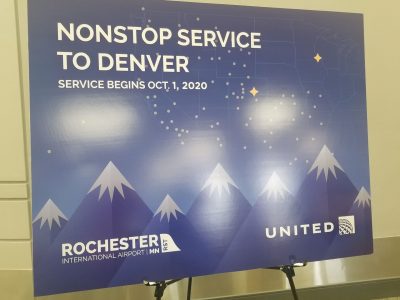 Rochester International Airport (RST) announced that new, nonstop United Express flights, operated by SkyWest Airlines, between Denver International Airport (DEN) and RST will begin on October 1, 2020. The new flights will provide travelers access to United's global network via the airline's Denver hub. The Denver hub provides one-stop access to 37 new cities from RST. The daily route will be flown onboard a 50-seat CRJ200 aircraft.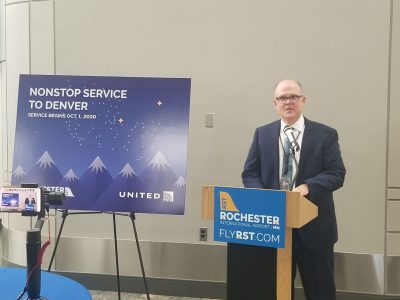 "We are thrilled United will be offering Denver as a new hub option," said John Reed, RST's executive director. "Airlines and airports have measures in place to offer safe travel for those with essential travel needs at this time. This flight will provide critical access for inbound patient travelers now and for our local market as they return to travel when ready."
RST is a significant contributor to the statewide and local economies. The new service will increase access to Rochester, not only for patients traveling to Mayo Clinic for medical appointments but also for people traveling to and from Rochester for business and leisure.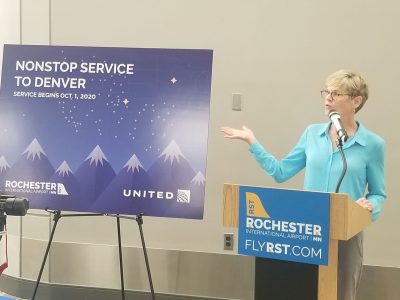 "We're all aware of what's going on with this pandemic and the challenges that we are going to be facing, and yet at the same time a major airline is focused on Rochester, is confident in Rochester, and is doubling down on Rochester, Minnesota," said Lisa Clarke, Destination Medical Center Economic Development Agency executive director. "This announcement is going to send a message to the state of Minnesota and to the nation that we continue to move forward as the world's premier destination medical center."
Denver is the fourth destination offered by RST, joining Atlanta, Chicago and Minneapolis. Tickets for Denver flights are now available at United's website or by calling United Airlines reservations at 800.UNITED.1 (800.846.8331).
Find more information about RST's new Denver service, including a flight schedule, here.