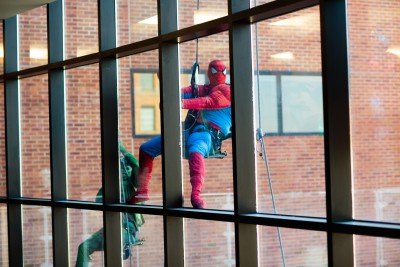 For more than 30 years, Roger Corcoran has been cleaning the grime off the windows at Mayo Clinic. But, on Sept. 25, Corcoran and two of his fellow window washers, John Carroll and Kyle Smith, went from being everyday grime fighters to superhero crime fighters.
The crew from Child Life Services gathered pediatric patients together in the third floor atrium of the Mayo Eugenio Litta Children's Hospital in the Mayo Clinic Children's Center to have a superhero celebration. Dressed as superheroes themselves and standing in front of the atrium windows, they had some fun with the kids, until, outside, Batman dropped into view. A collective gasp of surprise came from the kids, their parents and their caregivers when the first superhero dropped in. About a minute later, the Incredible Hulk dropped in, and then, finally, Spiderman made his entrance to even more cheering.
The three superheroes played a short game of tag on the windows and then dropped out of view. A few minutes later, they arrived inside the atrium to meet with the patients and the crowd that had gathered.
When not creating oohs and ahs as superheroes, Corcoran (Batman), Carroll (Spiderman) and Smith (Hulk) are employed by ISS Facility Services, a longtime Mayo Clinic contractor. Charles Kleber, managing director, explains how Mayo asked them to consider doing a superhero drop in. "We had never done anything like this before, but, once they mentioned it, we wanted to make it happen," says  Kleber. "Roger, John and Kyle volunteered to don the costumes."
After serving cake and punch to the group in the atrium, the superheroes visited patients in the children's hospital who weren't able to make it to gathering. Earlier in the day, the three superheroes also made a stop to see the pediatric patients in the transplant ICU. When one of the little patients saw the superheroes, he made a beeline for Spiderman and wrapped his arms around his legs. "The look on the little guy's face was why we did it," Kleber shares. "We did this for the kids."
This story was originally published by Mayo Clinic in their internal News Center.
What are ways like this that DMC and Mayo Clinic can transform experiences for patients? Share your thoughts in the comments section below.