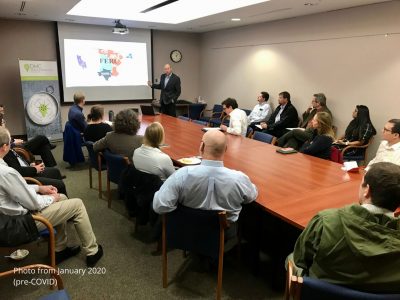 Destination Medical Center celebrates a major milestone this month: three years of presentations and community conversations through its monthly Sustainability Series.
Kevin Bright, energy and sustainability director for DMC Economic Development Agency and City of Rochester, started the Sustainability Series in 2017 as a way to provide a platform for public discussion surrounding sustainability topics and to help bridge the gap between sustainability experts and community members who want to learn more.
"It's been rewarding seeing people come together to learn more about how to integrate sustainability into their day-to-day lives," said Bright. "Having industry experts share their insights is generating more enthusiasm and collaboration among community members for helping Rochester achieve its sustainability goals."
During the first five years of the DMC initiative, DMC and its collaborators made sustainability a priority. DMC took a triple bottom-line approach to sustainability planning in order to balance decision-making across three key areas: natural environment, financial returns and social equity improvement.
The Sustainability Series has reflected those priorities, with topics including renewable energy trends in buildings, equitable community engagement and alternative modes of transportation.
Originally held at the Rochester Public Library, the series shifted to an online platform in March 2020 in response to COVID-19. This has allowed the series to reach a broader audience and host speakers from across the state.
"We hope to see the Sustainability Series continue to grow," said Bright. "Not only are we reaching a wider audience outside of Rochester, but we welcome new people from within our community each month."
The DMC Sustainability Series is a partnership with the U.S. Green Building Council, an organization that works to transform the way buildings are designed, constructed and operated through LEED, the top third-party verification system for sustainable structures around the world.
Bright was recently selected as a 2020 LEED Fellow by Green Business Certification Inc. (GBCI), a distinction awarded to professionals who represent exceptional practitioners and leaders within the green building community and have demonstrated mastery of the technical application of LEED, the world's most widely used green building rating system.
View recordings of the DMC Sustainability Series since March 2020 here: