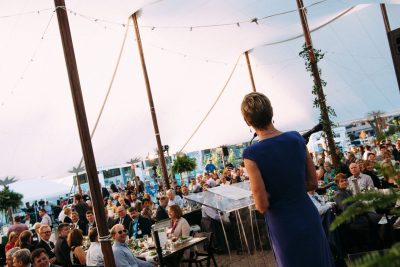 With the newly opened One Discovery Square in the background serving as a symbol of its progress, civic and business leaders gathered outdoors Thursday, Sept. 19, for Destination Medical Center's 2019 Annual Meeting and to celebrate the grand opening of One Discovery Square and the future Discovery Walk parkway, with a festive community celebration open to all.
Under a tent erected on a parking lot across from One Discovery Square, 400 guests enjoyed dinner and updates from a trio of key players in the DMC process. The speakers' messages covered three broad themes: opportunity, growth and the future.
Opportunities: Leveraging Mayo for diversity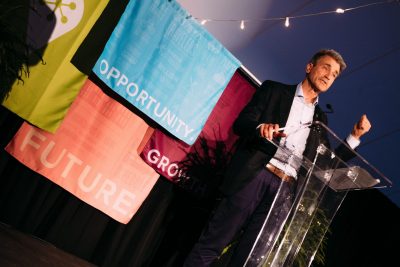 DMC Corp. Board Chair R.T. Rybak began the program by highlighting the broad range of opportunities DMC is offering to Rochester, in areas such as investment/development (for example, the opening of One Discovery Square), the "greening" of the city from new sustainable infrastructure such as transit villages, and the expansion of its workforce thanks to new startups, hotels, restaurants and other investments stimulated by DMC.
"Destination Medical Center is essentially a deal — an idea under which the economy of Rochester, which has always benefited greatly from Mayo Clinic but is also precariously balanced on one industry, could become more diverse around the clinic," said Chair Rybak. "It has meant doubling down on Mayo in order to expand the economy beyond Mayo, with the goal of creating new job opportunities for people in other fields."
During the four-plus years of DMC's run, he said, that has been "the theory;" now, however, it has become more than that. The successful completion and lease-up of One Discovery Square has indeed provided proof of concept. "Now's our time to put the foot on the gas — Destination Medical Center is working," noted Rybak.
Growth: $700 million in investments since 2013
Taking up the subject of Rochester's growth under DMC was Jeff Bolton, Mayo Clinic's chief administrative officer and board president of the DMC Economic Development Agency (EDA). That growth, he said, has indeed been impressive: nearly $700 million in private investment made since 2013.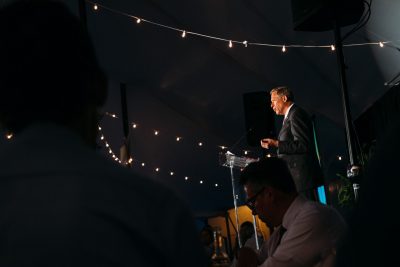 Among the most visible growth has been in the hospitality field, with the newly opened, 264-room Hilton Hotel downtown leading the way, the addition of around 300 new downtown apartments, design approvals and upcoming construction for the Heart of the City subdistrict, the Chateau Theatre and Ryan Companies Heart of the City project  and One Discovery Square completion..
Meanwhile, Bolton added, Mayo will continue to do its own part, promising to "invest another billion dollars in Rochester facilities and equipment between now and 2021."
Looking five years into the future
And finally, wrapping up the evening's proceedings, DMC EDA executive director and event host Lisa Clarke encouraged the audience to imagine what it would be like to attend the same event five years into the future.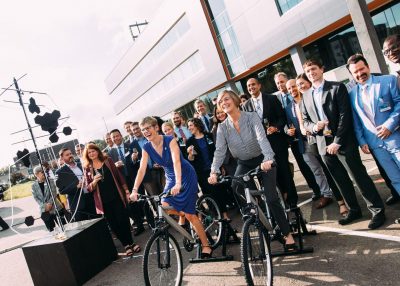 "You will probably make your reservation via Google, because Google is coming to town," she said. "You park at one of Rochester's mobility hubs and hop aboard a high-frequency circulator to Discovery Square. Upon arriving here, you find all kinds of activities, art, parks, and a local farmer's market.
"Walking by One Discovery Square, you hear University of Minnesota Rochester students sharing their ideas for extending human longevity as part of a partnership offered by Boston Scientific and Mayo's Motion Medical accelerator. And you're in awe of what's happening in the city."