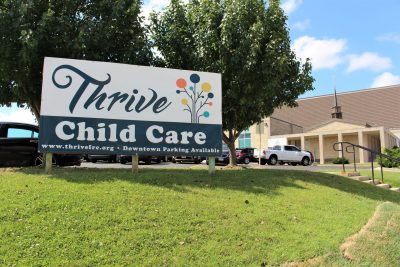 World-leading scientists and researchers aren't the only ones contributing to the community in Destination Medical Center's Discovery Square. Families at Thrive Childcare are embracing the "live, work, play" environment envisioned for the sub-district.
Christ United Methodist Church opened Thrive Childcare as a nonprofit organization last October. The space in the church's lower level has six classrooms with the ability to serve up to 82 children. Volunteers also run a family resource center to help families with questions they have about parenting.
Tanya Goretzki, Executive Director of Thrive, says the majority of parents who take their children to Thrive work in the downtown area. This saves them time dropping off their children in the morning. It also provides peace of mind.
"For parents being able to walk out our door and see the building that they're working in gives them this calm, especially for our infant families," said Goretzki. "They pop in throughout the day if they can."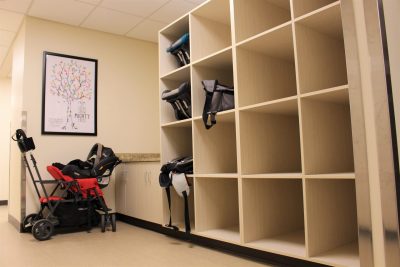 DMC's Discovery Square is intended to be an area not only where entrepreneurs work side-by-side with industry leaders, but also a place where families can enjoy Rochester's recreational opportunities and livability.
Goretzki says parents are also embracing alternate modes of transportation besides single-vehicle commuting. She often sees parents utilizing public transportation or walking to Thrive to drop off their children.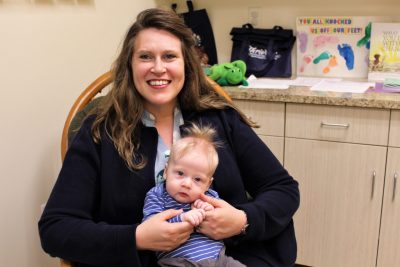 These are exactly the kinds of values McKinsey and Wade Goodenberger hope to instill in their young children. They both work downtown and live in nearby Kutzky Park Neighborhood, and their infant son Artie attends Thrive.
"Living close to where you work, not having to commute just feels natural," said McKinsey. "There are just so many reasons we prioritize walking whenever we can."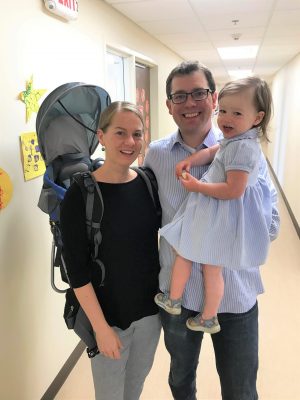 Seth Behrends and Kari Andersen also live and work downtown. They walk with their daughter, Annelise, to Thrive.
"When thrive opened up, honestly, we jumped on board because of the convenience," Andersen said. "Not having to drive—that's fantastic."
"DMC was one of the initiatives that we saw when we were considering a place to live," Behrends said. "And now to see it really start to come to fruition has been exciting."
Several childcare centers have recently opened in the area in response to growing demand, as detailed in this June 2019 Post Bulletin report.