What other holiday traditions – new or old – would add vibrancy in and around downtown Rochester? Share your ideas here!    
In recognition of Mayo Clinic's sesquicentennial, a holiday tradition will be revived: the seasonal lighting of the historic Plummer Building in Rochester.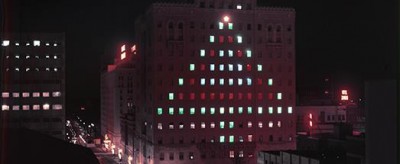 Every December from 1950 to 1956, Mayo Clinic displayed a Christmas tree in lights on the south wall of the Plummer Building, facing Second Street Southwest. Mayo electrician Fred Reed and his colleagues planned the annual designs. Night watchmen, as Security personnel were called, manually turned on lights to create the tree pattern each night. From year to year, the tree design varied: all-white, red and green, and white with colored accents. This description from 1950 suggests the extent of the project:
Formed by 60 lighted windows, the tree stands 128 feet high and 131 feet wide. On top of the tree, which extends from the fourth floor through the twelfth, is a five-pointed star of plywood with a light on each point and one in the center.
In 1957, the Mayo Clinic staff publication Mayovox announced the end of this popular tradition: "Not for lack of effort by Engineering Maintenance and the Electrical Department, but because remodeling on many floors has so changed the pattern of lights that it just isn't possible anymore."
In the 1960s and early 1970s, an illuminated star was placed in the Plummer Building bell tower. Amid the oil crises of the 1970s, Mayo Clinic ended this custom.
The 2013 illumination will use energy-efficient, LED technology and restore a long-lost glow to the Rochester campus. Once again, the lighting will appear on the Plummer South wall facing Second Street Southwest and will shine daily from 4:30 p.m. to 8 a.m. CST through Dec. 31. Also, while displays in the 1950s lasted for only a few days around Dec. 25, this illumination will cover nearly four weeks during the holiday season.
-Reprinted from This Week at Mayo Clinic