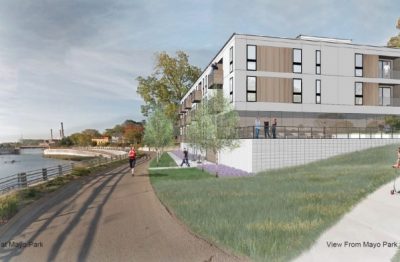 More signs of development in DMC's Downtown Waterfront sub-district have taken shape. The Lofts at Mayo Park, a 29-unit housing development, will soon offer new housing options – short- and long-term, furnished and unfurnished – to visitors and residents of Rochester.
DMC Corporation board members, DMC Economic Development Agency (EDA) staff, and city leaders were given a tour of the site in late October.
Lisa Clarke, DMC EDA executive director, says the project is consistent with the DMC vision. "It adds new and additional housing units in the downtown while enhancing the public realm of the neighborhood," she says.
The Downtown Waterfront sub-district capitalizes on the beauty of the Zumbro River with residential, commercial, and green spaces alongside walkways for pedestrian and bicycle traffic along the riverside.
"DMC looks forward to seeing this project come to fruition and become a valued community asset," says Clarke.
The $9.5M project is expected to be complete in December 2016 and see its first occupants in January 2017.
Click here to learn more about the project from ABC6 News.