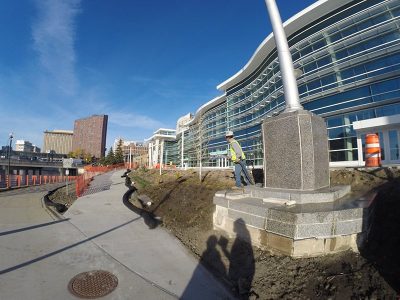 The vision of DMC is to create a high-quality experience for community members and visitors to Rochester. The Mayo Civic Center, with its new expansion, will do just that.
The Mayo Civic Center is a strong community asset. Not only does it help to generate business for the community, but it also provides arts, culture, and entertainment that add vibrancy to Rochester.
As the transformation nears completion this spring, DMC shares in the excitement surrounding the reopening of this important community asset and the Mayo Civic Center invites you, as business leaders and residents, to help ensure its success in the coming years by sharing a contact who would be interested in bringing more groups, meetings, and events to Rochester.
Discussions about expanding the center began over a decade ago and Donna Drews, executive director of the Mayo Civic Center, is anxious to finally see the doors open. "As we approach completion of the construction phase, it is clear the new center will be the region's finest and most technically advanced banquet, special event, and conference venue," she says.
According to Drews, the Mayo Civic Center serves as a regional economic generator by creating over $48 million in annual economic impact. And while the existing Mayo Civic Center already hosts hundreds of events each year (265 in 2015) and bring thousands of visitors to the city (288,000 just last year), the expanded facility will provide even more opportunity to grow those numbers and increase the center's impact.
Leaders at the Mayo Civic Center are now looking to you and me to help grow the economic impact to the community by encouraging local leaders and residents to consider what groups they belong to or know of that they might refer to the center.
"We are anxious to open the doors and take the next step toward a whole new level of quality service and event experience," Drews says.
What groups do you belong to that you could bring to Rochester?
From galas and trade shows to conferences and board meetings, the team at the Mayo Civic Center is ready to make your local, regional, or national event a success. Visit www.ShareAContact.com today to help make the Mayo Civic Center "the Center of YOUR City."