The DMC vision is not one that can be accomplished alone – or overnight. But with the advancements that took place on the DMC Development Plan over the past year, Rochester is well on its way to becoming a premier global medical destination.
It doesn't take an urban planner to recognize the qualities it takes for a city to be successful. DMC is in the middle of it all: growth, investment, culture, community, innovation… the list goes on. And Rochester is hitting the mark on each attribute, ensuring 2017 will be another year of success.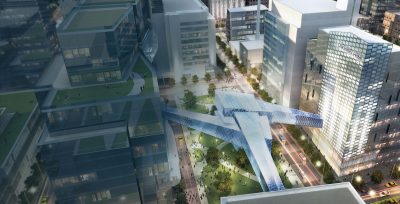 Growth: A map on the DMC website highlights the fourteen projects currently in various stages of development in the DMC district, including the Alatus Development Project in St Marys Place (#14), the Titan-OPUS Project in Discovery Square (#3), and the Lofts at Mayo Park in the downtown Waterfront (#9), just to name a few.
Investment: Private investment gained significant momentum during 2016 that put DMC on course to reach the $200 million threshold that unlocks $585 million in public funds spanning over 20 years.