The DMC vision is not one that can be accomplished alone – or overnight. But with the advancements that took place on the DMC Development Plan over the past year, Rochester is well on its way to becoming a premier global medical destination.
It doesn't take an urban planner to recognize the qualities it takes for a city to be successful. DMC is in the middle of it all: growth, investment, culture, community, innovation… the list goes on. And Rochester is hitting the mark on each attribute, ensuring 2017 will be another year of success.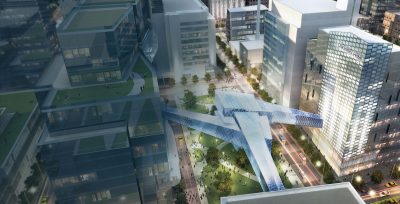 Growth: A map on the DMC website highlights the fourteen projects currently in various stages of development in the DMC district, including the Alatus Development Project in St Marys Place (#14), the Titan-OPUS Project in Discovery Square (#3), and the Lofts at Mayo Park in the downtown Waterfront (#9), just to name a few.
Investment: Private investment gained significant momentum during 2016 that put DMC on course to reach the $200 million threshold that unlocks $585 million in public funds spanning over 20 years.
Culture: Historic preservation goes hand-in-hand with arts and culture at the Chateau Theatre. A task force and design firm spent much of 2016 working on plans to restore the historic downtown landmark into a multi-purpose performing arts space.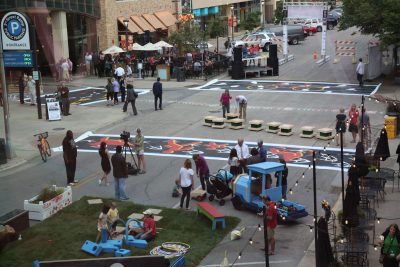 Community: Public engagement is critical to DMC now and will be for years to come. As design teams work on plans to ensure a safe, livable, walkable city, the community's input remains invaluable. The first-ever PlaceMakers | Rochester Prototyping Festival took place in September and brought hundreds of people downtown to explore temporary prototypes that can enhance our downtown streetscapes. 2016 also had designers of the public realms of Heart of the City and St Marys Place sub-districts seek and receive substantial public input through advisory committees, surveys, open houses, social engagement, and more.
Innovation: With Mayo Clinic's investment in Discovery Square, the sub-district is on-track to accelerate new advancements in medical research, technology, and patient care. Groundbreaking for the first project is expected to take place in 2017.
Education: Core post-secondary education institutions in the DMC district continue to offer personal and professional development opportunities to the region, as both University of Minnesota Rochester (UMR) and Winona State University Rochester experienced unique growth and progress during 2016. The state's strategic focus on world-class education is also working to position Minnesota's residents as national leaders in workforce development.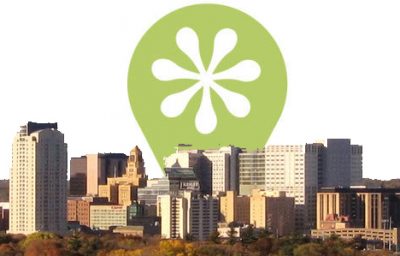 Health: It's no secret that the goal of DMC is to transform Rochester into "America's City for Health." With the Mayo Clinic at the heart of our community, Rochester's reputation for health, wellness, and recreation reaches far beyond our borders. This year, Rochester was named the healthiest city in America by the digital corporation, 24/7 Wall St. (The group also ranked Minnesota as the #4 best state to live in.)
Recreation: To maintain a healthy lifestyle, having multiple options for recreation is imperative. In fact, recreation is so critical a component to becoming America's City for Health, it is paired with education as a sub-district all its own. Working in collaboration with UMR and other stakeholders, planning for the development of the sub-district will evolve over 2017 and the coming years.
Medicine: For over 150 years, Mayo Clinic has created a culture of collaboration while working to discover new medical innovations. Access to the highest quality health care, the world's best physicians, and experiences outside the walls of the clinic that are just as positive as their experiences inside are just a few of the things that make Rochester truly a "Destination Medical Center."
DMC continues to
top headlines
and to 
receive recognition
on the advancements and the ways in which the initiative has impacted the community, creating even greater excitement as we begin 2017.