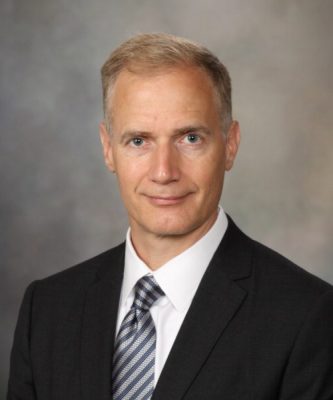 If eyes are the window to the world, Timothy W. Olsen, M.D. is building high performance window frames. With a passion for restoring vision, the ophthalmologist set sights on developing and bringing to market a first-of-its-kind device for treating age-related macular degeneration. The synergies around the Destination Medical Center economic initiative and Mayo Clinic's research and practice community prompted him to move his business and clinical/surgical practice from Atlanta to Rochester, Minnesota.
"The business environment is second to none. Mayo has made a statement through Destination Medical Center that it wants to be an innovation center for medical technology," says Dr. Olsen.  "That combination of business, technology and connection to Medical Alley bio businesses in Minnesota makes this is a really good place to develop and commercialize medical devices."
Destination Medical Center is a 20-year, multibillion dollar public-private partnership to position Rochester as a global destination for health care, biotechnology and life science discoveries. The money supports public infrastructure and does not go to Mayo Clinic. The convergence of entrepreneurship, medical expertise and regulatory support, Dr. Olsen says, is the perfect place for a successful product launch.
"Destination Medical Center is the City of Rochester, Olmsted County and the state of Minnesota. With those components, hopefully there will be private sector support as well as the opportunity for engaging with people involved in funding early stage start-up companies, including venture capital funding opportunities," says Dr. Olsen.
A new device for age-related macular degeneration
Macular degeneration affects more than 3 million Americans and is the leading cause of vision loss for people over 50. There is no cure or treatment in the early stages. Patients with end-stage macular degeneration may be suitable for monthly eye injections, but that is expensive and inconvenient. The disease process usually progresses despite the injections.   
That's where Dr. Olsen's business comes in. His team is advancing research on a surgically implantable device, using a technology that was first conceived at the University of Minnesota and patented through Emory University. That device acts as a window or picture frame holding regenerative tissue in place to support the macula at the back of the eye, potentially reversing vision loss and preserving the function of the macula.  
The National Institutes of Health/National Eye Institute awarded a Small Business Technology Transfer grant for a one year, phase one feasibility study. The grant goes directly to Dr. Olsen's company, located in the Mayo Clinic Business Accelerator, with sub grant funding for pre-clinical research at Mayo.
"The goal of this research grant is to support scientists launching commercialization of a product rather than the researcher studying technology from an outside company, in an effort to speed the movement of a product from the research lab into the marketplace," says Dr. Olsen.