Progress continued in the Heart of the City today as the Community Advisory Committee made its recommendation for the team charged with designing the DMC sub-district's public space.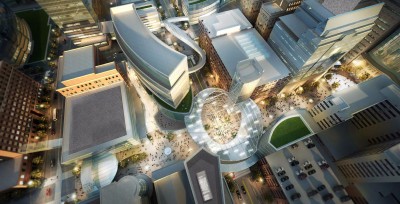 That recommendation is RSP Architects, a Minneapolis-based architectural firm with offices in Rochester, Phoenix, and other locations, and includes Coen Partners (Twin Cities), which will serve as lead landscape architect; 9.Square (Rochester), which will provide urban design, architecture, planning, and community engagement; HR&A Advisors (New York), which will provide open space development, management, and strategy services; and Kimley-Horn (St. Paul and Rochester), which will provide civil engineering, transportation, and DMC plan continuity.
Earlier this year, compelling design concepts were submitted by a number of firms from across the country. Those proposals were narrowed down to three: HGA, RSP Architects, and Sasaki Associates, Inc. The three teams presented to the Heart of the City Community Advisory Committee who evaluated each team based on project understanding, team composition, work plan, process, timetable, prior projects, and fee.
"The design concepts, experience, and community engagement presented for these very public spaces were key considerations in the Community Advisory Committee's decision in selecting RSP," says Patrick Seeb, DMC's director of economic development and placemaking. Committee members noted appreciation for their balanced team, that the team's lead designer is based in Minnesota, and for its desire to "implement a dream and be inspirational."
"All of the teams that submitted proposals are talented, experienced teams," Seeb explains. "The work they do will continue to be valued in creating a vision for the future of Rochester."
The committee will make its recommendation to the DMC Corporation board at the August 25 meeting. Upon board approval, the recommendation will be brought to the Rochester City Council.
To read more, visit this article on the Rochester Post-Bulletin website.
—
Join the conversation!
The vision for the Heart of the City in the DMC development plan is to create a true center of the city, a crossroads where health care, commercial, hospitality, retail, and residential meet.
What is your dream for Heart of the City? Share it on the DMC Facebook page.