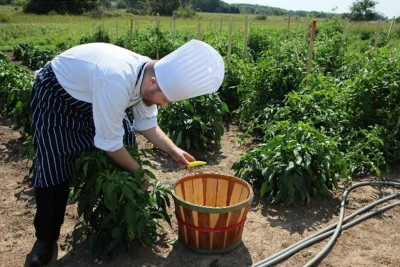 The term "hospital food" often conjures up images of clear broth and mashed potatoes, with a splash of color from an occasional Jell-o square.
But Justin Johnson, executive chef at UW Health Partners Watertown Regional Medical Center, is "pulling the plug on heat-and-serve-chicken, frozen vegetables and prepackaged pudding," according to the Milwaukee Journal-Sentinel, which profiled the hospital's new approach to hospital nourishment in August of 2012. The article includes some of his recipes – such as Roasted Yellow Heirloom Tomato Bisque and Steamed Little Neck Clams and Mussels with Roasted Fennel and Yellow Coconut Curry Broth.
Johnson incorporates fresh vegetables from a new 11,000 square-foot garden on the hospital's grounds. The hospital also sources ingredients from a farmers market it hosts every Thursday in front of the hospital. Patients are able to order from room service at times convenient for them. And a new bistro featuring delicious and locally-sourced fare will serve employees and visitors.
Johnson's efforts garnered him a nomination for a National Restaurant Association Award in the "Operator Innovations in Sustainability" category.
Not bad for a 50-bed regional hospital in a rural community between Madison and Milwaukee.
It gets one thinking about the possibilities with DMC – to have an organization like Mayo Clinic work with local farmers and farmers markets, to promote sustainability, to make nutritious foods fun, exciting and palatable, and to get rid of the institutional Jell-o once and for all.
Rochester offers health care that is world-class. Many local restaurants such as Sontes, Prescott's and Four Daughters Winery are already developing locally-grown and sustainable menus that are being met with rave reviews. Having an organization like Mayo Clinic promote healthy lifestyles through its food service would continue to help set it apart from its competitors.
Do you think it's a good idea? Share your thoughts in the comments section below.