The Community Advisory Committee charged with guiding the public realm design for Heart of the City, the DMC sub-district that serves as the soul of Rochester's downtown, selected six consulting teams this week from the eleven who applied.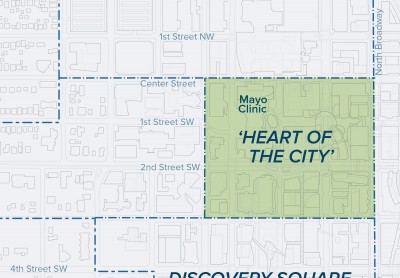 Requests for Proposals will be requested from the six firms moving on to the next phase of the selection process, which include ALTA, Behnisch Architekten, HGA + Gehl + OJB, Latent Design, RSP – Coen Partners – 9.Square – HR&A Advisors – Kimley Horn, and Sasaki.
The sub-district redesign will intentionally take some time to complete. To be successful, projects of this impact and magnitude should not be rushed.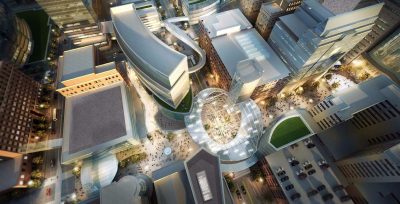 To get some perspective on the process for a redesign like this, Destination Medical Center spoke with two experts: DMC Economic Development Agency board of directors member Tom Fisher, architecture professor and Dean of the College of Design at the University of Minnesota, and Heart of the City Community Advisory Committee member Jeanine Gangeness, Associate Vice President for Academic Affairs at Winona State University.
Fisher and Gangeness agree: It all comes down to good planning, community engagement, and patience.
DMC: What is the process for a major urban redesign like the Heart of the City and how long can the Rochester community expect a project like this to take? 
Fisher: Every design process begins by researching issues and site conditions that need to be taken into account as well as input from diverse community members and client representatives to make sure different points-of-view get factored into the design. There are multiple opportunities for review, comment, and revision as the process goes forward. It can take 4-6 months to complete the design process for a district, depending upon the scope of work, and a few more months to prepare the documentation and final recommendations.
DMC: What are some of the challenges involved in the process, and how do designers overcome these challenges?
Fisher: Challenges in an urban design project can include a lack of clarity about the scope or goals of a project, underlying conflicts among interested parties, or a lack of resources to do what a community hopes to achieve. I don't think those challenges will occur in the Heart of the City project, but a good team can work through them to align the scope with the resources and to resolve conflicts through the design process. Design is not just about aesthetics or the technical aspects of materials and construction; it is also a process that opens up unrealized possibilities and addresses unresolved conflicts in a community.
DMC: The Community Advisory Committee (CAC) will be evaluating consulting teams to lead the redesign, and the team will be announced soon. What will the CAC be looking for as it reviews proposals?
Gangeness: The group chosen for this important work will need to have a strong history in bringing community members together, creating a shared vision, and designing a new and creative space that feels accessible, safe and inviting for everyone to use.
DMC: How important are community engagement and input in making sure a project of this scope is successful?
Gangeness: Engagement is central! I truly believe that the Heart of the City will be successful with strong communication and engagement of current residents, proprietors, and interested groups. The synthesis of group information will shape a healthy place to live, work, and develop.
Fisher: Urban design – like the design of anything – cannot proceed without the input and involvement of the people most affected by it and who will most likely use it. An architect can't design a house for clients without understanding their needs and aspirations, and an urban designer can't design a district or development without understanding the same from the people who will live or work, visit or shop there.
DMC: How do designers preserve a community's established character despite changes that come with major projects like this one?
Fisher: During the research and community input phase of a project, design teams identify what matters most to a place and to a group of people and find ways to preserve and enhance those values. That can include preserving and reusing cherished buildings and spaces or capturing the qualities and cultures of a place, which may be more intangible but just as important as bricks and mortar.
DMC: What excites you most about the Heart of the City?
Gangeness: I believe that the Heart of the City work is essential to expanding current efforts for a vibrant and engaged Rochester epicenter. As a downtown resident, I care about how the city grows and develops. This is an exciting time for Rochester. We are being afforded the opportunity to help create a better and more vibrant space.