Cities across the country are exploring new and improved ways to design the streets and corridors that connect us to the places we live, work, and play. In downtown Rochester, DMC is looking at options to provide practical, safe, and appealing ways for everyone to move between the six sub-districts.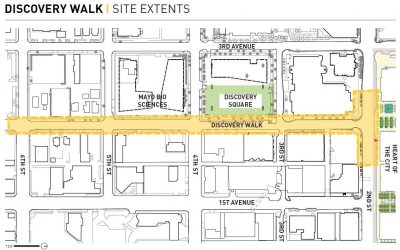 Most recently, designers for DMC have been focusing on the future of a four-block segment of Second Avenue SW. The corridor – which extends south from Heart of the City through Discovery Square and down to Soldiers Field – has been dubbed "Discovery Walk."
"Connecting existing and future assets of downtown is essential," says Patrick Seeb, director of economic development and placemaking for the initiative's Economic Development Agency. "Discovery Walk will be an integral piece of the greater plan for the DMC District."
Discovery Walk is among several downtown streets to be redesigned as part of the DMC initiative.