The DMC sub-district known as St. Marys Place has received a great deal of attention of late. With several new development projects under consideration or in the works, DMC needs your help.
Several months ago, in collaboration with the City of Rochester and a team of stakeholders, DMC began a design process for the public realm and infrastructure for the area and the 2nd Street Corridor.
Contextual map of area
The process began by assembling and analyzing existing and new data. This served as the foundation for a recent "Design Sprint," which involved three teams of stakeholders who were asked to explore and develop concepts to address design issues, such as transportation, parking, commercial districts, and neighborhood connections. Each team took on a different point of view for design considerations. One group took on the perspective of patients, visitors, and St. Marys employees; another, adjacent business and property owners; and the third, nearby neighborhoods.
Not surprisingly, each team's approach included common themes such as convenient transit, dedicated bikeways, a safe pedestrian environment, and the creation of an active, walkable commercial district on the north side of 2nd Street. But the teams' recommendations differed as to how these themes should be implemented.
With this body of work in hand, we'd love your feedback. Take some time to consider and comment on each of the concepts. Your input will help as we continue to refine this work.
Concept A: Connect
Group A was asked to take on the perspective of the Mayo patients, visitors, and staff who frequent the St. Marys Place sub-district.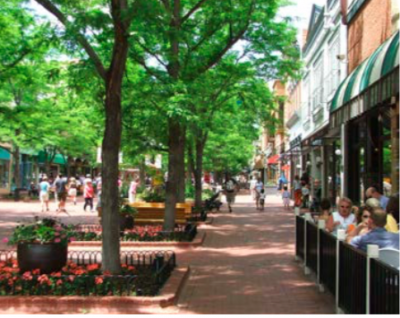 Priorities identified by this group include:
increasing access to retail and dining north of 2nd Street and to parks and nature with activities for all ages
installing walkable, safe, frequent pedestrian crossings on 2nd Street and a pedestrian environment with accessibility, good lighting, and heated sidewalks in winter
providing convenient, fast, accessible transit to downtown and transportation options that include Uber and/or Lyft
implementing public art and clear, way-finding signage
installing protected bikeways, on-street parking, and priority for transit over automobiles
The title "Connect" was chosen for the Group A design to reflect the overall approach of connecting across 2nd Street, connecting to surrounding neighborhoods, and connecting to other districts and amenities of the city.
Click here to learn more about Concept A.
Concept B: Protect
Group B was asked to take on the perspective of business owners and developers in the sub-district.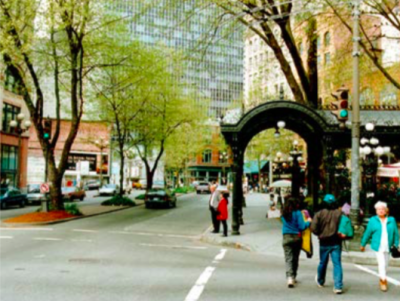 Priorities identified by this group include:
creating a gateway to the St. Marys District and the city as a whole
closing Avenues between 1st and 2nd Streets to host activities
creating pedestrian tunnels for climate protection and safety and outdoor walkways with heaters and snow melting features
providing convenient transit with protected shelters to destinations inside and outside of Rochester
relocating dedicated bicycle lanes from 2nd Street to 1st Street
slowing traffic and minimizing cars on 2nd Street and replacing on-street with off-street parking
The title "Protect" was chosen for the Group B design to reflect the pedestrian tunnel system that provides climate protection and safe crossings under major streets.
Click here to learn more about Concept B.
Concept C: Activate
Group C was asked to take on the perspective of neighborhood representatives in the St. Marys sub-district.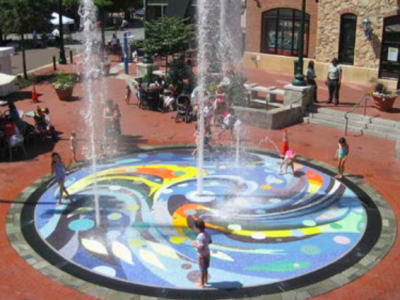 Priorities identified by this group include:
increasing commercial activity between 1st and 2nd Streets and activating the south side of 2nd Street with small retail and other purposes with designs that respect the older buildings
installing wide sidewalks and weather-protected pedestrian ways with snow melting and accessible, safe intersections and crossings with transparent vertical connections between levels
creating pocket parks and playgrounds for families, and retail, including food trucks
providing convenient transit using streetcars within dedicated transit lanes
increasing quality connections between the 2nd Street corridor and neighborhoods south of the hospital and reducing the number and width of traffic lanes and enhancing the beautiful streets with trees and medians
installing smart street design with apps for wayfinding and transit schedules, moving dedicated bicycle lanes from 2nd Street to 1st Street, and maintaining on-street parking on 2nd Street
The title "Activate" was chosen for the Group C design to reflect the desire to create an active pedestrian-oriented community on both sides of 2nd Street that is well- connected to the surrounding neighborhoods.
Click here to learn more about Concept C.
Each design concept has its own unique qualities and includes elements that would enhance the livability of the sub-district and ensure the mobility and safety of patients, visitors, and residents.
Now DMC needs your help.
Public input is critical when implementing projects of this scale.
In the field below, please share your thoughts on the concepts presented. We invite you to comment on all the concepts – or just the one that stands out most to you. Your opinion can help shape the future of this sub-district and the gateway to the heart of Rochester.