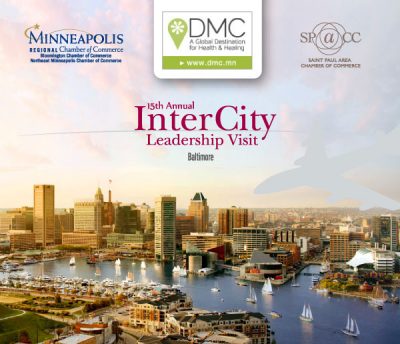 For the past fifteen years, the Minneapolis and St. Paul Chambers of Commerce have been bringing together thought leaders from across the state of Minnesota to explore and study issues in urban regions of the country. Last year, the group traveled to Seattle, while previous years have brought them to San Francisco, Denver, Portland, Austin, Charlotte, Atlanta, Toronto, San Diego, and Boston.
This week, members of the DMC Economic Development Agency leadership joined nearly 100 other civic, business, and philanthropic leaders from across the state to participate in the 15th Annual InterCity Leadership Visit to Baltimore.
According to the Minneapolis and St Paul Chambers of Commerce, the Baltimore area is a good example of an urban, diverse city that is "continually innovating to deal with improving education, addressing racial equity, and creating environments for people and business to thrive."
Leaders of Baltimore are working to capitalize on the region's cornerstone institutions like Johns Hopkins to create new job opportunities for all of its residents and improve the workforce options to train people for those jobs.
"We've discussed a variety of issues and potential solutions related to how community leaders, organizations, businesses, neighborhoods, and anchor institutions work together to invest in the future of a city," says Lisa Clarke, executive director of the DMC EDA.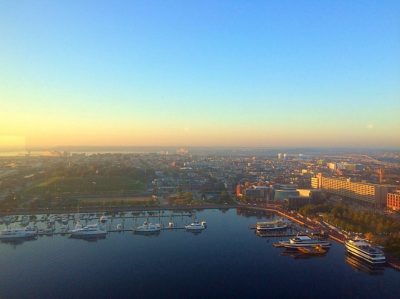 According to Clarke, Baltimore has graciously opened their city to the group and invited their Midwestern guests to be a part of direct and honest conversations on a variety of important topics, including conversations on economic development, life science and innovation, neighborhood and waterfront redevelopment, sustainability, workforce programs, critical partnerships, disparities in the city, and Johns Hopkins' involvement in development as an anchor institution.
Clarke says she's learned a lot from the successes and failures that the city's leaders have shared with the group and is eager to apply these learnings locally.
"This visit has made me reflect on how proud Rochester can be that we are proactive and working together," Clarke explains. "We are leading from a position of strength, not from one of crisis."
But the momentum that resulted from the visit out East goes far beyond what was learned about Baltimore.
The DMC staff was also able to develop new relationships and nurture existing ones with Minnesota stakeholders during the trip. They spent considerable time with existing and potential partners, such as DMC Corporation board member R.T. Rybak, statewide developers, and leadership from the Minnesota High-Tech Association, District Energy, Greater MSP, the Wilder and McKnight Foundations, and the University of Minnesota, to name a few.
Connections like these could be pivotal in growing future opportunities for collaboration and increasing statewide support for the DMC vision.