With a number of new housing and retail developments and a burgeoning entrepreneurial spirit, Rochester is booming. And Destination Medical Center (DMC) is in the middle of it all.
2016 brought new developments in each of the DMC sub-districts, including housing, hotels, retail, restaurants and other businesses, that will inspire dynamic places to live, work, and play, filled with culture and recreation. 2017 is certain to bring more of the same.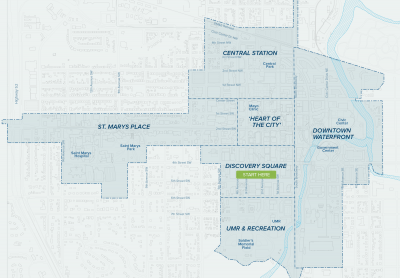 Community members have become increasingly engaged as each of the six DMC sub-districts – Discovery Square, St Marys Place, Heart of the City, Central Station, the downtown Waterfront, and the UMR & Recreation sub-district – have begun to take shape.
Substantial efforts are being made by planners and developers to preserve the history of each sub-district while enhancing the vibrancy and livability for residents, patients, and visitors. To learn more about the active projects that are taking place across the DMC district, click here.
Lisa Clarke, executive director of the DMC Economic Development Agency believes the progress made in 2016 demonstrates the commitment and confidence of investors and developers. "Investments are being made – financial and otherwise – as a result of the opportunities provided by the DMC initiative," says Clarke. "The investments are helping to fuel the momentum needed to keep Rochester ahead of the curve."
With this momentum continuing to grow as we enter the New Year, DMC is certain to find itself in the middle of everything in 2017.