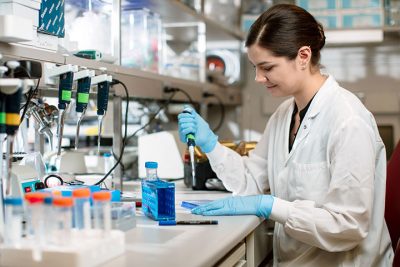 A generous $32 million gift from the New York-based Anna-Maria and Stephen Kellen Foundation will enable Mayo Clinic to expand its research mission with the construction of a four-story, 64,000-square-foot research building in Rochester.
Planning for the Anna-Maria and Stephen Kellen Building is underway, with groundbreaking expected in 2020 and occupancy in 2022. The building will be located just north of Mayo Clinic's Opus Building, which is on the corner of Fourth Street Southwest and Fourth Avenue Southwest in Rochester.
"We cannot overstate our gratitude to the Anna-Maria and Stephen Kellen Foundation," says Gianrico Farrugia, M.D., Mayo Clinic's president and CEO. "Research is critical to infusing new knowledge into patient care. It paves the way to solve serious or complex medical challenges for our patients at Mayo as well as patients around the world. This remarkable gift will allow us to meet a critical need for research space on our Rochester campus."
The gift was directed to Mayo Clinic by Michael M. Kellen, foundation president, and Marina Kellen French, vice president. Their parents, Anna-Maria and Stephen Kellen, now deceased, received care at Mayo Clinic for decades, and that trust and care have continued into the next three generations. Stephen M. Kellen was president and CEO of Arnhold and S. Bleichroeder Inc., an international investment firm based in New York, now known as First Eagle Investment Management LLC.
"Our family's history with Mayo Clinic spans more than four decades, and the physicians and staff at Mayo have become like family to us," says Marina Kellen French. "We are thrilled to be able to support Mayo and be part of advancing medical research that will help patients for decades to come."
The Anna-Maria and Stephen Kellen Foundation has been a significant contributor to Mayo Clinic over many years, funding various initiatives and projects in support of Mayo Clinic's highest priorities. The foundation also has supported the Dr. Richard F. Emslander Professorship at Mayo Clinic College of Medicine and Science in recognition of the care that Richard Emslander, M.D., provided to the family over many years.
"Medical research has always been a strong interest of our family," says Michael M. Kellen. "We are pleased that this gift will address a high-priority need at Mayo while honoring our parents' legacy in a visible and meaningful way."
The Anna-Maria and Stephen Kellen Building will add to the Discovery Square sub-district in downtown Rochester. Discovery Square is the research, innovation and development hub of the $5.6 billion Destination Medical Center (DMC) initiative.
"The new Anna-Maria and Stephen Kellen Building will bring more Mayo Clinic expertise to DMC's Discovery Square and complements the unique entrepreneurial environment of the subdistrict," adds Lisa Clarke, executive director, DMC Economic Development Agency.
Decisions regarding specific use and occupancy of the new building will be made as part of the planning process this year.