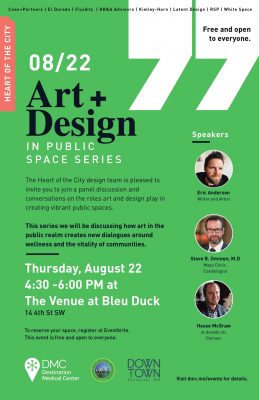 The Heart of the City design team is pleased to invite you to join panel discussions and conversations on the role of art and design in creating vibrant public spaces.

The August 22 topic will be discussing how art in the public realm creates new dialogues around wellness and the vitality of communities with Rochester-based artist Eric Anderson, Dr. Steve Ommen, Mayo Clinic, and curator Hesse McGraw, el dorado.  
Anderson will provide an overview of his artistic practice and the evolution of The Artery, which he is developing for Heart of the City. Dr. Ommen played a vital role in the Artery's activation as a prototype and continues to oversee its connection with Mayo Clinic. McGraw will share precedents of unexpected artist-driven works in the public realm that communicate wellness and the vitality of communities. As curator for Heart of the City artist integration, McGraw will also share artists' works currently in development for Rochester. 
To reserve your space, register here. This event is free and open to everyone, space is limited.
The Art + Design in Public Space Series kicked off earlier this summer with topics ranging from how universal design and access is a key to social equity, to how art and design can reflect local context and values and how to create meaningful interaction and spectacle. 
Upcoming Art + Design in Public Space series will be presented by artists Iñigo Manglano-Ovalle, Rafael Lozano-Hemmer, Ann Hamilton, and Nicole and Seth Nfonoyim-Hara. Future event details to be announced. 
Panelist Biographies:
Eric Anderson is a writer and artist living in Rochester, MN. His interactive installations have been commissioned by or featured in collaboration with the Center for Research and Interdisciplinarity at the University of Paris, France, the Smithsonian Museum of Natural History, the National Institutes of Health's National Human Genome Research Institute, Mayo Clinic, the Open Source Pharma Foundation, Destination Medical Center and the Rochester Art Center. A graduate of the Iowa Writers' Workshop, his writing has appeared in Granta, American Letters & Commentary, Columbia Poetry Review, and elsewhere. He has taught for the University of Iowa, the University of Minnesota-Rochester and the Mayo Clinic Center for Humanities in Medicine. For more, please visit: howzero.com
Steve R. Ommen, M.D.
Dr. Steve R. Ommen is a Professor of Medicine, Mayo Clinic College of Medicine and Consultant in the Department of Cardiovascular Medicine.  He serves as the Director of the Mayo Hypertrophic Cardiomyopathy Clinic, the largest and longest-standing dedicated HCM Center in the world.  Mayo's HCM clinic is recognized as a leader in clinical outcomes, research, and patient education. Dr. Ommen is also Co-director of the Structural Heart Disease program, Medical Director for AskMayoExpert, Associate Dean of the Center for Connected Care, and Medical Director(i), Mayo Global Business Solutions
Dr. Ommen has earned many awards throughout his career including the Outstanding Achievement Award in Clinical Cardiology, the Mayo Award of Individual Excellence, the Mayo Award for Team Excellence, the Excellence in Teaching Recognition for Mayo Clinic College of Medicine, and the Outstanding Course Director Award from the Mayo School of Continuing Medical Education.  He has been recognized as one of the top 15 Digital Healthcare Executives.
Hesse McGraw
Hesse McGraw is a partner and curator at el dorado inc, a unique cross-disciplinary practice founded in 1996 in Kansas City, Missouri that moves fluidly between architecture, urban design, curatorial and fabrication projects. Hesse is a curator and writer, and most recently served as Vice President for Exhibitions and Public Programs at San Francisco Art Institute. His curatorial practice and arts organization leadership are acclaimed for shifting organizations and places into springboards that expand the agency of artists beyond the gallery.

His noted long-term projects include commissioning Jill Magid's work The Proposal (2014 – ongoing), which offers the gift of architect Luis Barragán's body in the form of a two-carat diamond engagement ring in exchange for the return of his body of work to Mexico; Michael Jones McKean's public artwork The Rainbow (2012 – ongoing), which generates actual prismatic rainbows at civic scale from recycled water; and Theaster Gates' Carver Bank (2012 – 2016) in Nebraska, which convened a space of urban ecstasy that supported artists living and working in North Omaha. Through these collaborations, more than 75 curated exhibitions, and extensive public and educational programs, Hesse has powerfully shared the instrumental role of artists in igniting public imagination and animating our largest problems.