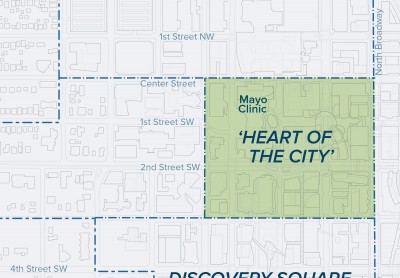 There are six unique sub-districts being developed as part of the DMC initiative, including the much-anticipated Heart of the City.
Flanked by Mayo Clinic and the University of Minnesota-Rochester, this sub-district will serve as the true heart and soul of the city: a thriving, walkable oasis that pairs inviting, open spaces with health, retail, hospitality, and leisure.
On Tuesday, June 27, you can be a part of the future of this critical sub-district. Join DMC, the City of Rochester, and the Heart of the City Design Team to review and give feedback on the final schematic design for the Heart of the City, an authentic and iconic public space to attract residents, patients, employees, and visitors to America's City for Health.
The event will be held at the Historic Chateau Theatre in downtown from 5:30-7:30 p.m. with the program beginning at 6 p.m.
To learn more about the Heart of the City design process, click here.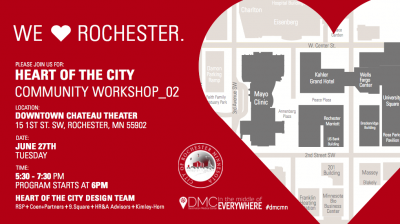 Heart of the City Workshop_02
Date: Tuesday, June 27th
Time: 5:30-7:30 p.m.
Location: Historic Chateau Theater in downtown Rochester
Workshop Agenda
5:30 – 6:00 (30 minutes) – Doors Open
6:00 – 6:40 (40 minutes) – Introduction and Presentation
6:40 – 7:30 (50 minutes) – Feedback exercises / Open House
Be a part of the Heart of The City. RSVP today!