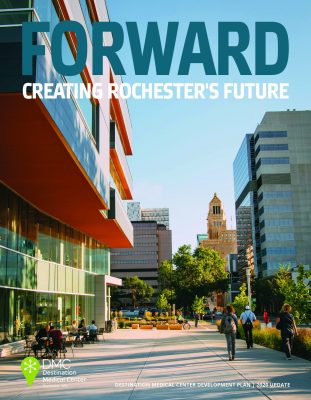 The Destination Medical Center Corporation (DMCC) Board of Directors today approved a 5-year update to the DMC Development Plan, which was adopted in 2015 and provides a framework for implementing the mission of the DMCC to transform Rochester, Minnesota as a global destination for health and wellness.
The purpose of the 5-year update, which is required by state statute, is to tailor economic development strategies to market conditions​, to account for how DMC catalyzed for economic growth from 2015-2019​ and to gather community input.
DMCC Board members were presented highlights from the first five years of the Development Plan, which include:
The creation of more than 7,000 new jobs with over 80 percent of those new jobs paying more than Rochester's Area Median Income.
Public investment of $98 million spurred private investment of $963 million (through 2019).
The increase in jobs and investments have led to net new tax revenue ahead of projections at the end of 2019.
Major mobility and public realm planning and prototyping teed up longer term projects to further economic growth and high-quality development.
As part of the 5-year update, DMC commissioned HR&A Advisors to perform a scenario analysis of the potential impacts of COVID-19 on the local economy and the DMC Initiative.  Details of that analysis were presented to the DMCC Board indicating that despite significant losses, Rochester has fared better than other cities and is starting its recovery from a position of strength.
HR&A recommended that future economic development strategies should support existing local businesses, prioritize public infrastructure, reuse excess real estate capacity creatively, diversify the economy and support development proactively.
"This is really exceptional work. We not only completed a long-term update but we also did a real deep dive into what's going to happen with COVID," said DMCC Board Chair R.T. Rybak. "The recommendation to support local businesses should be our number one priority."
Mayo Clinic Chief Administrative Officer Jeff Bolton provided the DMCC Board with an update and noted that Mayo Clinic is committed to Minnesota, Rochester, the DMC vision and the 5-year update to the DMC Development Plan.
The DMCC Board approved design development documents for Discovery Walk, a linear parkway along 2nd Avenue in downtown Rochester connecting Soldiers Field to Annenberg Plaza near Mayo Clinic. The Board also authorized the development of construction documents and bidding for the project.
The DMCC Board commended DMC EDA Executive Director Lisa Clarke for her decade-long commitment to the DMC initiative.  Clarke recently announced her retirement effective January 4, 2021.
Rochester Mayor Kim Norton acknowledged Clarke's tenure. "Lisa, you have really provided the continuity and vision from the beginning."
Patrick Seeb, DMC EDA's director of economic development and placemaking, will succeed Clarke as executive director.
The next DMCC Board meeting is scheduled for February 3, 2021.