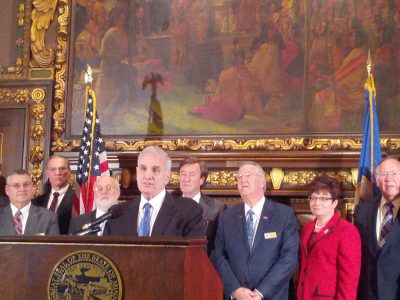 As Minnesota Governor Mark Dayton prepares to leave office after eight years at the helm, he has announced his list of the Top 25 Major Accomplishments that have taken place since he entered the office of Governor, and Destination Medical Center (DMC) was highlighted as one of his administration's top achievements.
The achievement reads:
In 2013, Governor Dayton signed legislation authorizing the DMC initiative – a multi-billion dollar public-private partnership to make Rochester "America's City for Health."
Over 20-years, DMC will create an estimated 35,000 jobs and generate $7.5 billion in tax revenues. The private investment by Mayo Clinic and other private entities are projected at more than $5 billion. As part of this historic partnership, the State of Minnesota, Olmsted County, and the City of Rochester will invest $585 million to build public infrastructure that will help support the growth of the regional economy.
As of 2018, there are 23 projects at various stages of development in the DMC district. New DMC developments approved in 2018 alone totaled $342 million. From 2013 to 2017, DMC attracted nearly $428 million in private investment. Since 2014, approximately 3,300 new jobs, 1,100 new apartment units, and nearly 600 new hotel rooms have been added in Rochester.
"Destination Medical Center has proven to be an engine of economic growth and a Greater Minnesota success story," notes Lisa Clarke, executive director of the DMC Economic Development Agency.  "We thank Governor Dayton for his leadership in creating Minnesota's largest economic development initiative."