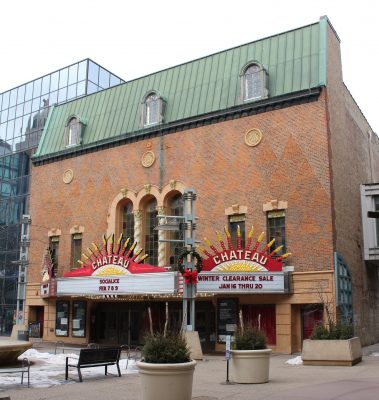 An iconic downtown landmark is promised new life as the City of Rochester announces call for requests for proposals (RFP) for the operation and management of the historic Chateau Theatre.
The Chateau Theatre is located in the Peace Plaza in Heart of the City which sees nearly 1.4 million visitors a year and within walking distance of over 2,200 hotel rooms.
"The Chateau Theatre is a community treasure and has always been at the core of our DMC Heart of the City planning," says Lisa Clarke, executive director, DMC Economic Development Agency. "Re-opening of the Chateau will add more culture and entertainment options for Rochester patients, visitors and community members which adds to the vibrancy of Downtown Rochester."
Operational priorities for the Chateau include:
Managing the day-to-day building operations;
Working strategically to achieve a high level of activation of the building for events;
Creating a vibrant entertainment, education, and cultural hub in the Heart of the City;
Developing and implementing strategies to engage with existing community groups and attach new partners and events; and
Supporting the City's investment via a high standard of building maintenance and preservation.
The Destination Medical Center Corporation Board of Directors and the Rochester City Council approved $1.1 million in funding for the renovation, with completion expected by mid-summer 2019.
The RFP is open to all interested parties and has a submission deadline of February 15, 2019.