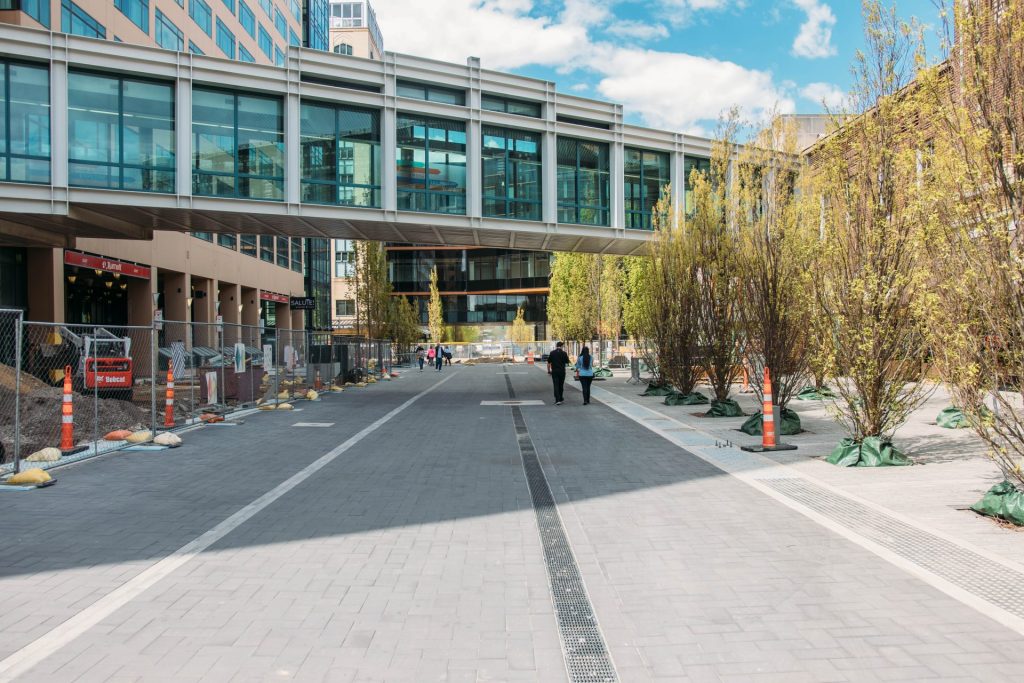 The first phase of Destination Medical Center's Heart of the City public realm project includes major infrastructure improvements and renovation of the east side of Peace Plaza and surrounding areas. The new design will create active, engaging experiences for residents, visitors and patients in the heart of downtown Rochester. These updates will provide enhanced safety measures, including curbless streets, and provide greater accessibility for people of all abilities. Here are five things to know about the project as it nears completion:
The project broke ground in April 2020 and is expected to finish in August 2021. Different sections of the project will re-open before then, as they are completed.
Peace Fountain will be reinstalled this summer. The fountain was temporarily moved out of Peace Plaza last year for it to be restored and later reinstalled. The Heart of the City design team worked with the Charles E. Gagnon Museum & Sculpture Garden to understand the original intent of the fountain and to maintain Charles Gagnon's vision for his work.
The project will feature art installations, including one by Rochester artist Eric Anderson. Anderson's piece, Wakefield, is comprised of fog and light that emerge within the plaza at the moment of a life event.
1st Avenue SW from 2nd Street SW to W. Center Street is expected to fully reopen in July 2021.
Look for upcoming events and activities in the Heart of the City, including live music, Thursdays Downtown, and more this summer and throughout the year.