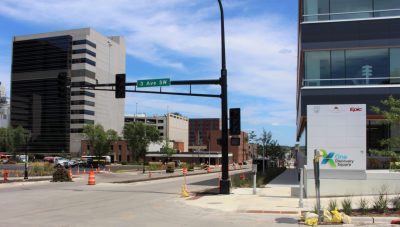 Pedestrians, bicyclists, and drivers will have an improved experience on 4th Street SW in the Discovery Square sub-district in downtown Rochester as a major reconstruction project nears completion. Crews have been working to update the stretch of road between 1st Avenue and 6th Avenue over the past year.
The $5.3 million project, which includes Destination Medical Center (DMC) funding, features several improvements, including repaving the road, replacing a water main more than a century old, and upgrading the downtown area's sanitary sewer capacity.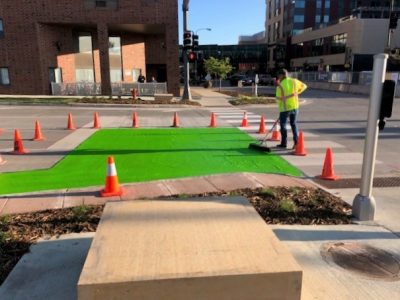 Pedestrians will experience wider sidewalks, shortened crosswalks and raised medians at intersections. A "curbless" intersection is being installed at 4th Street SW and 2nd Avenue SW, which is also where the future Discovery Walk, a linear parkway connecting Soldiers Field Park to the Heart of the City, will cross.
The addition of buffered bicycle lanes will increase the distance between bikes and vehicles by adding a barrier in between the road and bike lanes. The intersection at 1st Avenue SW will also have the city's first "bike box." This is a special marking on the pavement that directs bicyclists to pull in front of vehicles while stopped at a traffic light for greater visibility. Meanwhile, drivers will have access to more on-street parking spots.
The community is invited to "Meet the New 4th Street" at an open-house style event on August 29 from 3-7 p.m. The eastbound lanes of 4th Street SW between 1st Avenue SW and 2nd Avenue SW will be closed to vehicular traffic during that time to allow people to more comfortably explore the area and see the changes firsthand.
Representatives from DMC Economic Development Agency, the City of Rochester, We Bike Rochester, Olmsted County Public Health, Arrive Rochester, and Lime Scooter will be on hand to demonstrate the new features. "Nice Ride" bikes and helmets will be available for people to test out the new buffered bicycle lanes and bike box. Several organizations will be offering prizes and giveaways, including a drawing for a commuter bike from We Bike Rochester.