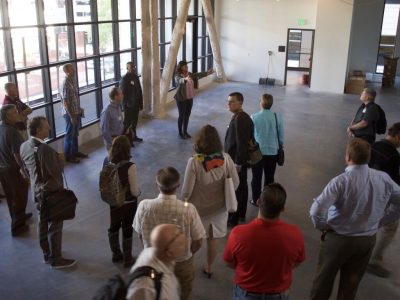 As Destination Medical Center (DMC) stakeholders ponder how the evolution of Rochester's Heart of the City and Discovery Square sub-districts will play out, civic leaders got an up-close look at one new development in downtown Minneapolis that offered some valuable "best practices" examples on how it could be done.
An August 30 bus tour was coordinated by DMC Economic Development Agency (EDA) to study how Minneapolis has been rejuvenating its urban core in recent years. Representatives from Rochester's business, political, governmental, and cultural sectors spent valuable time at the "Kraus-Anderson mixed-use block," located near the Hennepin County Medical Center in the "East Town" section of downtown, an area that's long been dominated by underused surface parking lots.
One of those lots belonged to Kraus-Anderson (K-A) Construction Co. and also held its small, 1970s-era headquarters building. K-A's Vice President of Business Development John Campobasso told the Rochester group that, in 2012 when the company began looking into consolidating its scattered workforce into an expanded HQ building, it faced some big questions, including whether to keep its downtown location.
"There were a lot of places we could have gone, but our ownership was committed to being here," Campobasso said. "After all, we'd been in downtown Minneapolis since 1897 and on this block since the 1940s."
Around the same time, the market for new downtown apartments began heating up. So with the help of ESG Architects, Campobasso said K-A made a decision to redevelop the entire block all at once – even though it meant relocating its HQ operations off-site during the 18-month construction schedule.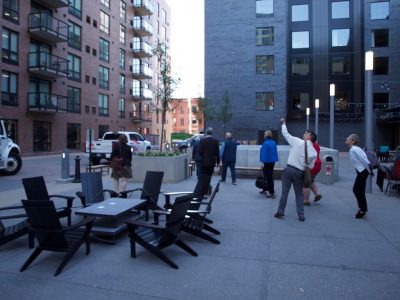 The result was a prime example of "holistic placemaking" – a project featuring four separate but connected elements. They include Kraus-Anderson's new five-story, 100,000-square-foot headquarters; the 307-unit HQ Apartments; and the Elliot Park Hotel, a 165-unit boutique hospitality property. But its innovative centerpiece is a new four-story building combining a craft brewery and taproom operated by Finnegan's Brew Co. The independent brewer donates all its profits to feeding the hungry, and its innovative "Finnovation Center" is essentially a co-working space and business incubator for entrepreneurs whose start-up ventures feature a social responsibility element.
Finnegan's Co-Founder and CEO Jacquie Berglund led the tour of the space, emphasizing its strong connection to the surrounding Elliot Park neighborhood, one of the lowest-income communities in Minneapolis.
"We've been in Elliot Park since 2000, and I was really passionate about seeing this neighborhood develop," she said. "When I realized I needed a new brewery and taproom to compete in the craft beer business, my timing was good. I found a great partner in Kraus-Anderson, which was working on this block-wide redevelopment."
The "best practices" lesson of the K-A block for Rochester, according to Patrick Seeb, director of economic development and placemaking for the DMC EDA, is how it wove together the separate interests of several very distinct entities into a single vision for redevelopment.
"We were very inspired by this project and the way it shows how we, in Rochester, can think about redevelopment – not just as a single project, but more holistically," said Seeb.