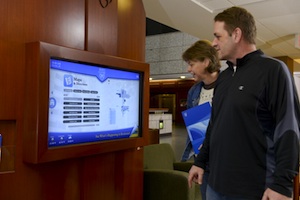 Wondering what's going on in Rochester today? The weather for tomorrow? Directions to lunch or a medical appointment?
A trio of new "self-service" kiosks offer visitors assistance for both inside Mayo Clinic and around town. While the kiosks are for everyone, they were created in part to cater to those who don't live and breathe by smartphone. (And there are a lot of us!)
Find kiosks in the Charlton Building Lobby and near the information desks on the street and subway levels of the Gonda Building. They offer:
Activities and current event listings
Dining and lodging options
Mayo Clinic and city tours information
Culture, history and entertainment options
A "Things to do Today" calendar
Lecture, library and research information
Weather forecasts
Arrival and departure times for the Minneapolis-St. Paul and Rochester International Airports
Bus/public transportation schedules
Directions, directions, directions
Try out a kiosk and tell DMC blog readers how it worked.