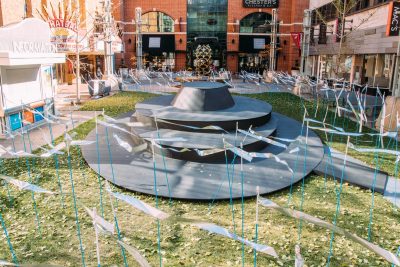 Prototyping is not a new concept for designers. They regularly create early representations of an idea with intentions of testing a theory or response, then adapting the design into a bigger and better version of the original.
The same can be said when introducing prototyping into the public realm.
Destination Medical Center Economic Development Agency (DMC EDA) recently invited local innovators to help activate the Peace Plaza in Heart of the City by installing their own prototypes in the space. Then, from October 16 to November 15, 2018, the Heart of the City Design team and the prototypers themselves spent one-month testing theories, gauging responses, and ultimately exploring ways to enhance the original prototypes and consider whether they would be effective long-term public installations.
As part of the testing, local artists and musicians were tapped to showcase their talents during lunch-time performances, braving varying degrees of weather.
Patrick Seeb, DMC EDA Director of Economic Development and Placemaking said not every city approaches engagement this way. "The idea of engaging the community through prototyping ensures that our designs will be better and it's an approach and methodology that can lead to other activities in Rochester," noted Seeb.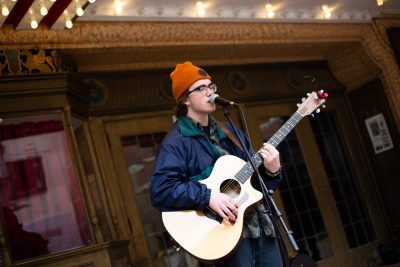 Recently, DMC EDA staff and designers met with the prototypers, representatives from the City of Rochester and the Rochester Downtown Alliance to discover what had been learned during the trial.
Some elements of prototyping can be adjusted for similar future test runs, such as spending more time in the pre-planning phase, ensuring adequate access to electricity; and convening all partners, designers, artists, and fabricators together prior to installation.
Assistant Administrator for the City of Rochester Aaron Parrish summed up the overall experience stating: "It's all about generating momentum. This work is greatly appreciated."
Learn more about the interactive and engaging prototypes from a recent blog.