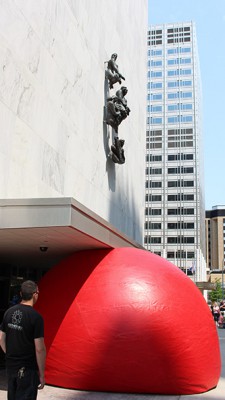 As patients, visitors and Mayo Clinic staffers made their way across the Annenberg Plaza for lunch on Monday, many stopped to enjoy an unusual obstruction — a giant vinyl balloon squished under the entryway awning of the Mayo Building.
Monday afternoon marked the first Mayo Clinic stop for artist Kurt Perschke's RedBall Project on the third day of its its seven-day "tour" through Rochester.
The ball will appear on the Peace Plaza on Tuesday before departing to make its rounds through the city and then returning to the Annenberg Plaza to wrap up the tour.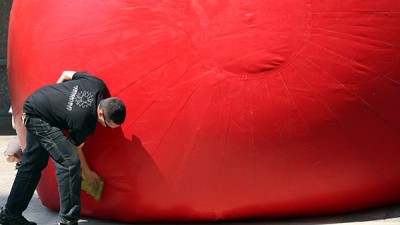 Showings are scheduled from noon – 7 p.m. though Friday. Arrive early to watch producers setup and inflate the RedBall at its daily installation. (Things really start to get interesting between 11 a.m. and noon.
The Rochester schedule, as outlined on the RedBall Project website, appears below…
6/9 – Peace Plaza, Kahler Grand Awning
6/10 – 600 Block of 6th Avenue NW
6/11 – Thursdays on First & 3rd, Historic 3rd Street
6/12 – Mayo Building, Annenberg Plaza
The RedBall in Rochester is sponsored by the Rochester Downtown Alliance.