Can you name the six sub-districts that make up DMC district? Do you know what the community is saying about transportation? Do you know who is behind the growing entrepreneurial spirit in Rochester?
The answers to these questions and more are available on the newly redesigned DMC website. Enhancements were made to ensure that the site, like Rochester itself, stays fresh but functional, and that its visitors can easily access the latest information about DMC regardless of the device they are using.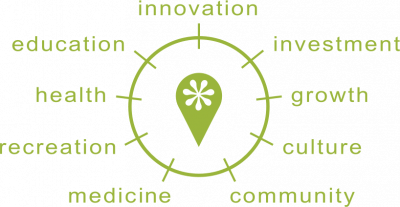 DMC.MN: The new homepage is intended to provide better insight into the nine areas of focus around which the DMC development plan was created.
DMC is in the middle of everywhere – and these nine concepts clearly represent the ideals that constitute the DMC brand. More importantly, they provide a platform with which to share stories about the drivers behind the DMC initiative and how public and private partners and community members are contributing to the DMC vision.
The new homepage also provides access to featured blog posts with a single click, ensuring you're always up-to-date on the latest DMC news and activities.
MAPS: There are new developments taking place in the DMC district every week. In order to keep you informed about the rapid progress happening in downtown, we added dynamic, interactive maps that can be updated at the same quick pace the landscape of the district itself is changing.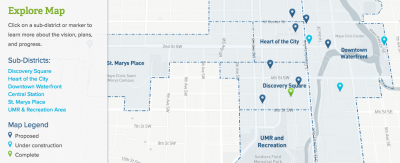 Color-coded map pins will help keep you on top of the rapid development of each individual project in the DMC district:
Navy: Proposed
Teal: In Progress
Green: Complete
Each pin links to the developer's site or property for additional details.
Still not sure you understand the vision behind DMC or how it's changing the blueprint of Rochester?
Take some time to explore the updated DMC.mn website today and discover what it means to be part of America's City for Health. Or click here to subscribe to the DMC e-newsletter and get the latest news delivered right to your inbox.