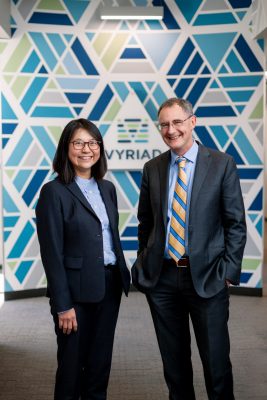 Mayo Clinic is an economic engine for its hometown of Rochester, Minnesota. The health care research leader is the city's largest employer and the largest driver of visitors to the region, with an estimated 1.2 million patients and their families traveling annually to the region to receive care. But Mayo Clinic's economic reach extends beyond these direct impacts, sparking the development of businesses in multiple industries.
Mayo Clinic has spun out a number of health-related businesses. More than 170 startups have used intellectual property developed at Mayo Clinic, and more than 2,000 technologies are available for licensing, according to Mayo Clinic Ventures, the organization that manages this commercialization.
One of those spun-out business is Vyriad, a working-to-commercialize technology discovered at Mayo Clinic's Department of Molecular Medicine that aims to engineer viruses that can kill cancer cells and prevent their return. The company's co-founders, Drs. Stephen Russell and Kah-Whye Peng, both lead research teams at Mayo Clinic and have remained committed to keeping the company nearby since its founding in 2016 even as potential investors have tried to convince them to relocate.
"The venture capital investors, some of them just said, 'Well, if you're not in Boston or California, we're not interested," Russell said. "And others were kicking the tires on it and saying, 'Why don't you move?'"
The benefits of staying close to Mayo Clinic outweighed the potential access to more investment capital, Russell said, and Vyriad began exploring other avenues for accelerating its growth. In 2019, it finalized a deal with Regeneron Pharmaceuticals Inc., which included Regeneron investing in Vyriad and creating a five-year collaboration. Now, the company is forging ahead with plans to expand in Rochester. It has 25,000 square feet of laboratory and manufacturing space in a building at the former IBM campus.
"That relationship has really helped to shape us," said Russell, describing regular meetings with the Regeneron teams. "We've built this phenomenal team of scientists. I'm really very proud of what we have, and I do think we're the best viral therapy company that there is in play at the moment."
Patients as entrepreneurs
Researchers aren't the only people who come to Mayo Clinic and wind up building a business. Sometimes, the patients do as well.
Traci Downs and her husband, Hunter, started traveling to Rochester in 2003 from Hawaii, seeking answers to a rare medical issue Traci faced. For several years, they made brief visits to Rochester for follow-up until, in 2012, she became very ill. The Downses once again made their way to Mayo Clinic, expecting a six-week stay. Six weeks turned into six months. The couple enrolled their son in a local elementary school, and Rochester began to feel like home.
After Traci stabilized, the family returned to Hawaii, where Traci and Hunter ran a technology company called Archinoetics. But when her illness flared again, the couple decided to make the move permanent.
"We said, 'OK, scrap it,'" Traci said. "'We're not going to go back and forth forever. We are moving to Rochester. We all loved it. We missed it when we left, and we're just going to make it our home.'"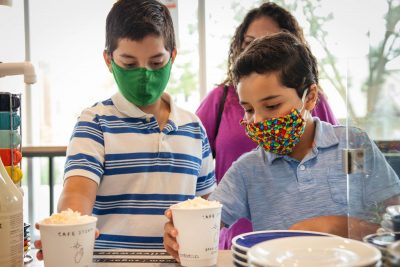 They ran their business from a coffee shop for a year, which was enough time to decide not just to move the company to Rochester but to invest in a coffee shop as well. That business, Café Steam, now has multiple locations. In 2015, the couple bought the historic Conley-Maass building in the Destination Medical Center's Discovery Square district in downtown Rochester. They renovated the property, which is now called the Conley Maass Downs building and is home to the restaurant Bleu Duck Kitchen, the Collider Foundation, BioSig Technologies, Mandala Tea and their technology company, now called Area 10 Labs.
"When you come to Rochester, everything is just easy," Traci said. "I mean, it's a small town, but it's a very international small town. It's multicultural, which is really important to me and to us because we enjoy the diversity of people. It's got this vibrancy of people who are really nice and friendly and easy to meet."
And while the medical community is a major focus, the entrepreneurial ecosystem is diverse as well, she said. "There's a big focus on the medical community, but people are what make that up. People come to Rochester who work in those fields, and having a vibrant community is really essential for us to be an enjoyable place to live, grow and work."