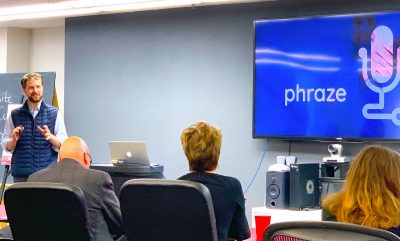 Rochester, Minnesota healthcare startup Phraze aims to improve the lives of physicians, and patients, with its artificial intelligence (AI) technology. Phraze's product is an AI-driven medical scribe aimed at reducing the effort needed for medical documentation. 
Co-founded by Brandon McCutcheon, MD, a Neurosurgery Resident at Mayo Clinic and Logan Marcus, MD, a former Radiation Oncology Resident at Stanford Health Care, the Phraze software platform passively listens to the conversation between patient and healthcare provider and creates the first draft of medical charting. While the provider must still read through these AI-scribe generated notes to verify accuracy, the Phraze tool helps to drive down documentation time, which is the number one driver of physician burnout.
The Phraze team is currently working their way through the semifinal round of the Minnesota Cup, the largest statewide business pitch competition in the US.., hoping to gain exposure for their software tool and make it into the final round of the competition later this fall.
"We want to emerge as the Midwest solution in the AI medical scribe space," explained McCutcheon. "We really feel that we are the first mover in the region and so it's natural for us to put a lot of emphasis and focus on the Minnesota Cup because we think it directly helps with that strategy."
Phraze, with team members spread across the U.S., brings a diversity of experience to the table. As physicians, both McCutcheon and Marcus have seen the results of physician burnout first-hand. San Francisco-based team members Khushwant Singh and Ashutosh Gaur have deep experience in the healthtech space. The Minneapolis-based team of Jack Schneeman and Chris Merritt run the business, sales, and marketing aspects of Phraze.
Though the rest of the team is stationed around the country, McCutcheon himself sees the entrepreneurial climate in Rochester growing and changing. 
"In Rochester, there's a lot of enthusiasm and there's a community built around Discovery Square, said McCutcheon. "Increased access to capital would really ignite the local community."
In addition to Minnesota Cup, Phraze is looking to close an early stage seed round of funding and has recently gone live with patient care at their first clinic. Over the next nine months they hope to sign up one hundred physicians on the Phraze platform.