Can you feel it?
Rochester is changing and it's even more than a geographic and economic expansion. Minds are shifting, opening, and discovering ways to improve our communities and lives. Organizations and initiatives are being formed, people are coming together to explore ideas, and events are being organized that feed this new expansive way of thinking. The fact that Rochester is holding its second annual TEDx event (TEDxZumbroRiver) is a perfect example of this movement of the mind.
On Thursday, May 18 from 4-8 p.m., the second annual TEDxZumbroRiver event will be held at Autumn Ridge Church in Rochester. The venue seats about 1,000 people and it is expected to sell out as it did last year.
Last year's TEDx event did not disappoint; it was catalyzing and inspiring. This year's 10 selected speakers – six of which are local and four national – will have between eight and 15 minutes to give their interpretation of this year's theme, "What's Possible?" From the people of southeastern Minnesota to people worldwide who enjoy all TED offers, these talks spur thought-provoking conversation, unleash new ideas, and inspire and inform individuals and communities.
The TEDxZumbroRiver event is fully planned and coordinated by over 70 local volunteers. They work tirelessly from October to May to pull off this amazing event.
Sheryl Barlow, Marketing Lead, TEDxZumbroRiver

"I've been involved in multiple volunteer ventures in the Rochester area, and although they are all worthy, nothing has compared to TEDx. The very nature of what it means to execute a TEDx event led to one of the best volunteer experiences I could image. Putting on a successful TEDx event draws an extremely thoughtful and creative group of people who are truly in it to give the community something amazing. As a lead volunteer, it was hard work, but the results blew me away! I couldn't wait to get started on year two." – Sheryl Barlow, TEDxZumbroRiver Marketing Lead
What a TEDx event is:
A suite of short, carefully prepared talks, demonstrations, and performances that are idea-focused, and cover a wide range of subjects to foster learning, inspiration, and wonder – and provoke conversations that matter. Just like TED events, it has no commercial, religious, or political agenda. Its goal is to spark conversation, connection, and community.
What a TEDx event is not:
A TEDx event isn't an industry or marketing conference. It isn't limited to one topic or field. It isn't used to sell something.
A TEDx event is not organized by or for special-interest political, religious or commercial groups.
A TEDx event cannot be used to raise money, not even for a charity.
A TEDx event cannot partner with another conference or event.
A TEDx event is not a platform for professional speakers, such as motivational speakers and professional life coaches. Its purpose is to give a platform to those who don't often have one.
A TEDx event is not focused solely on entrepreneurship, business or technology. Diversity of topics is key!
What does the future hold for TEDxZumbroRiver?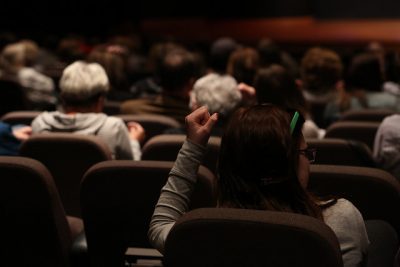 Ben Creo and Barb Spurrier hold the license for our local TEDx event. Their goal is simply to foster learning, inspiration, and conversations that matter and to create connections in our community that were not there before. That, and to become a top 5 TEDx in the nation by year five!