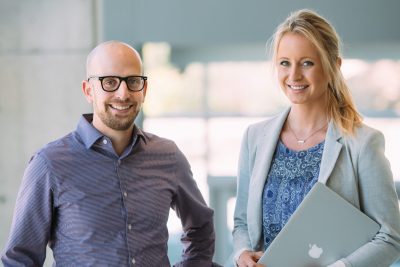 The Musicant Group, a design, property management, and event planning firm, has officially expanded into Rochester, Minnesota, the group's first location outside of the Twin Cities. They will manage and activate One Discovery Square, the recently opened life science center in Destination Medical Center's Discovery Square, creating events to connect building tenants with the external community.
"We are here to build upon our initial consulting for the building and to foster events, experiences and an environment that builds relationships between Mayo Clinic, the Rochester community, and the broader business and medical worlds," says Max Musicant, Principal Placemaker at The Musicant Group. "Now is a tremendous time to be in Rochester, with more exciting activity occurring than in any other city in Minnesota."
In addition to managing One Discovery Square, The Musician Group will curate onsite amenities and building features, create inter-building management systems, and provide events for the building's tenants, the public, and third parties wishing to rent venue space within the building.
Musicant opened its office in Rochester to develop a presence and begin to build relationships within the community after being hired by One Discovery Square developer, Mortenson. The team recently hired Community Event Manager Meghann Southwick to help expand their local capacity. Southwick has held several event and membership management positions with both the Rochester Downtown Alliance and the Rochester Area Chamber of Commerce.
The Musicant team is beginning to create events specific to One Discovery Square, which includes a mix of both social and professional programming. "People should expect something that's very community driven and focused on collaboration and sharing of ideas," notes Southwick. "Relationships are so important to this type of ecosystem."
"The Musicant Group's engagement in One Discovery Square further distinguishes this as a one-of-a-kind place in Rochester," says Chris Schad, DMC Director of Business Development – Discovery Square.
One Discovery Square, located at the intersection of 4th Street SW and 2nd Avenue SW, is now welcoming tenants, with a grand opening community celebration planned for September.