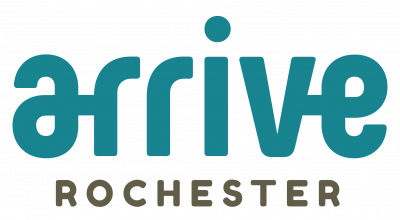 Transportation is a priority of the Destination Medical Center (DMC) initiative, and the new transportation management association (TMA) – Arrive Rochester – strives to make commuting easier for downtown Rochester employees.
Arrive Rochester is an initiative of the City of Rochester, DMC, and local employers. Arrive Rochester is part of the broader DMC plan and City of Rochester Comprehensive Plan. Both plans identify the need to shift downtown commuters to more sustainable travel modes such as carpooling, transit, walking, and cycling. This initiative is the product of more than a year's work by the Arrive Rochester Advisory Committee, a voluntary group of representatives from the city, DMC, local businesses, and other transportation stakeholders.
Employers will be able to join Arrive Rochester at no cost for the first year of operation and access the programs and services, including:
Discounted transit passes for employees
Guaranteed-ride-home program
Online ride-matching tool for carpoolers
Employee engagement campaigns and events
Commuter surveys and commute target goal setting
Commute impact reporting
Incentives and raffles for employees choosing greener commute options
In addition, Arrive Rochester will be working with employers and the city to investigate and pilot new policies and programs to support greener commuting: reserved parking for carpools, vanpools, bike, and car sharing and more.
While Arrive Rochester is targeted at downtown Rochester employers and commuters, planners say the benefits will extend to the broader community. For example, an online ride-matching tool is available to anyone who would like to sign up and look for carpool partners. Long term, the community will see reduced congestion on downtown streets, increased parking availability, and improved air quality.
Following the Arrive Rochester launch, the TMA will work directly with local employers to recruit them to the program and begin offering services to their employees.  Arrive Rochester will first conduct a workplace survey to understand current and desired commuting behaviors, before launching a suite of programs including the ride-matching and incentives tool.