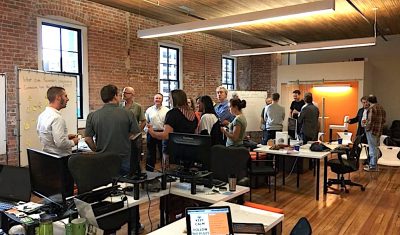 Coworking – a method through which an individual or group can rent a desk in an open workspace environment- is a trend on the rise. However, coworking can offer more than just an office space. Coworking can provide a platform for community supported innovation and can foster and support entrepreneurship, vital components for the future of Destination Medical Center (DMC) Discovery Square as a top attraction for medical innovation.
Coworking businesses typically offer desk rental agreements that are flexible, offering daily, weekly, and monthly rates. The coworking model can be a good fit for entrepreneurs, small teams, freelancers, and remote workers for larger corporations.
However, coworking can provide more than just a place outside of the home office to perform business. It can offer community to remote workers, facilitating collaboration and innovation that might otherwise not occur in the typical work environment. This consolidation of people and ideas also permits a faster flow of resources to entrepreneurs.
"We are seeing that in large markets," explained Bucky Beeman, co-owner of Offices at China Hall. "Google is taking space. Amazon is taking space. Other corporations are taking space within a coworking atmosphere."
"I always say that people come for the desk but stay for the community," said Jamie Sundsbak, Community Manager of Collider Coworking.
Sundsbak, who manages both Collider Prime in the Conley Maass Downs Building and Collider 424 on the Mayo Clinic campus, says the members are one of the most unique aspects of his coworking spaces.
Open space coworking may not be a viable option for those who require more privacy or have specific workspace needs. Also, as startups in coworking spaces grow, they find themselves with a new level of space needs – shared space but with private offices.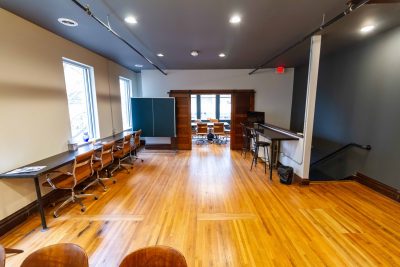 To meet this changing demand, several of the coworking spaces in Rochester now offer private offices. This includes individual offices at Collider 424 and Offices at China Hall. The Vault, managed by Tessa Leung, has twelve private offices. The Mayo Clinic Business Accelerator managed by Xavier Frigola, has both open coworking space and nine private offices.
Beyond an actual physical presence, coworking within DMC can organically serve as sites to accelerate innovation for both their members and for the entire community.
"If you have an idea for an event, if you have an idea on how you can activate the coworking space, or if you want to do a meetup of some sort, I think that the coworking space itself is a good place to start those conversations because it could lead to unlocking an opportunity to your idea becoming a reality," said Beeman.