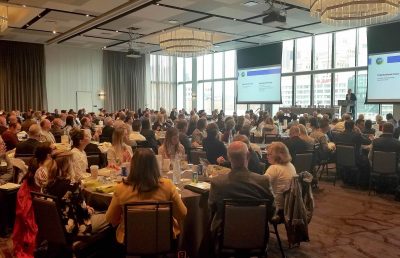 With the workforce in the Destination Medical Center (DMC) district projected to nearly double by 2040, how best to efficiently move those thousands of new employees in and out of downtown Rochester is a top priority for DMC planners and city officials.
The DMC Economic Development Agency foresees district workforce levels zooming from 35,250 to 62,400 over the next 21 years. And while that may seem like a rather long timeframe, the reality is different. Accomplishing the kind of large-scale transportation build-out needed to cope with such an impressive jump is complex and takes years to plan, finance and execute.
That's why DMC and City of Rochester planners have been working hard on developing an innovative transportation strategy over the last several years, one that seeks to leverage public transit improvements to spur follow-on private commercial investment – a phenomenon also known as transit-oriented development, or "TOD."
They shared the plan's details at the recent DMC Real Estate Development and Investment Summit, an event staged by the Minnesota Real Estate Journal and aimed at commercial real estate professionals from Rochester, the Twin Cities and elsewhere who are intrigued by the business opportunities being created by the DMC effort.
It was perhaps fitting that the Summit was among the first public events held at the newly-opened Hilton Downtown Rochester, itself one of the first concrete examples of the DMC initiative.
A hot topic for the real estate professionals in attendance was likely the discussion of the DMC/Rochester transportation plan and TOD. One big reason for that is the spectacular success of Metro Transit, the Twin Cities' transit agency, in spurring hundreds of millions of dollars of TOD along its new light rail transit (LRT) and bus rapid transit (BRT) lines.
Summit presenters Lucy Ferguson Galbraith and Michael Greif of Metro Transit shared some of those numbers. A new study they performed found, for instance, that transit upgrades carried out between 2003 and 2017 spurred the development of more than 15,500 multifamily units during that time frame, with 15,000 more units currently planned or under construction.
In addition to multifamily, they found that $3.7 billion of commercial development and $850 million of public and institutional development were sparked along the LRT/BRT routes during the 14-year span. All told, while TOD comprised fully 33 percent of all commercial development in the Twin Cities region, it was squeezed onto just 1.7 percent of its land mass — demonstrating the power of modern transit to attract investment.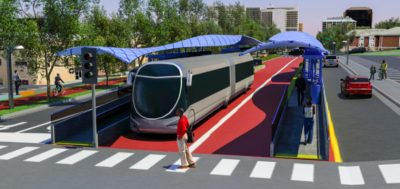 So how exactly is Rochester and the DMC planning to tap the TOD phenomenon? That question was addressed by Deputy Rochester City Administrator Aaron Parrish, who described how – pending federal funding — BRT is to play a crucial role in providing a reliable, frequent and comfortable connection between downtown employers and a pair of remote "Transit Villages" – one to be built at Mayo's West Lot near Cascade Lake and the other at Graham Park in the southeast of the city.
Parrish related how these Transit Villages are meant to be far more than mere park-and-ride lots. The plan is for them to host true TOD development, including up to 800 multifamily housing units and 58,000 square feet of commercial/retail at the Mayo West site, while the Graham Park site would be part of a larger master plan with diverse development options.
Meanwhile, the city is modifying its zoning regulations along the possible BRT routes on 2nd Street S.W. and Broadway/3rd Ave. S.W. to allow for new types of mixed-use TOD projects encouraging more transit usage.