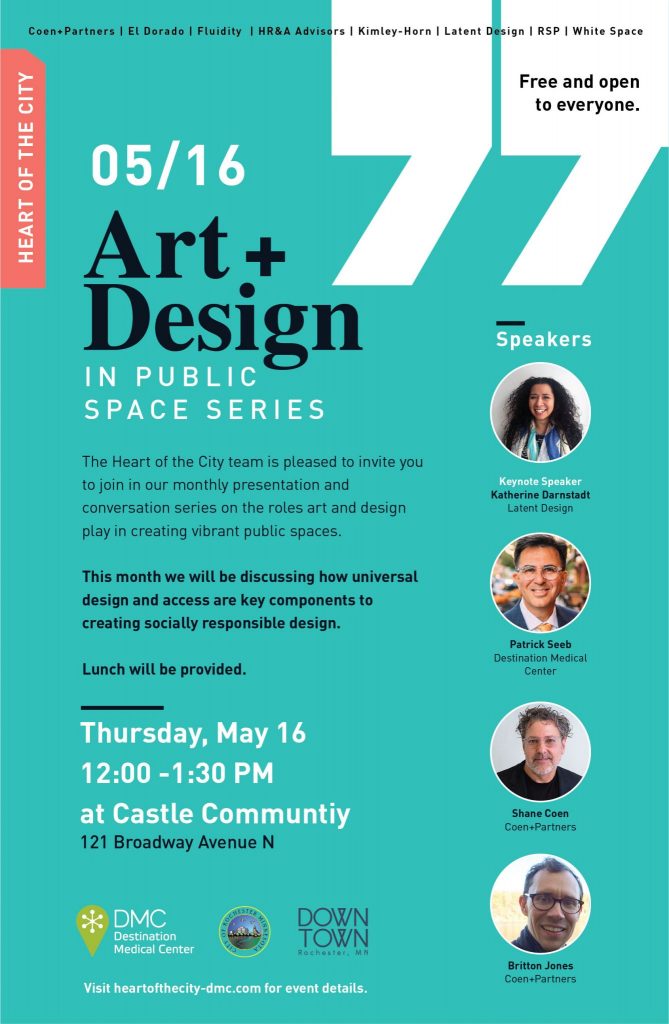 Destination Medical Center Economic Development Agency (DMC EDA), the City of Rochester and the Heart of the City design team are launching an Art + Design in Public Space Series.
The Art + Design in Public Space Series will be held monthly from May to October 2019, with a presentation and conversation on the roles art and design play in creating vibrant public spaces. Topics ranging from how art and design can reflect local context and values to how to create interaction and spectacle in public space.
The public is invited to the first event on Thursday, May 16, 2019, from 12:00 – 1:30 p.m. at Castle Community to hear about universal design from Katherine Darnstadt, founder of Latent Design, who will share how people of all abilities need to feel a sense of belonging in a place and how design does that. The design and placement of seating, the space given for mobility, and the clarity of functions within cities all work together at different scales to make public spaces welcoming to all.
"It's important that all people feel welcome and included in our public spaces," said Patrick Seeb, DMC EDA director of economic development and placemaking. "Universal design is key to ensuring accessibility for everyone."
This event is free and open to everyone. Registration is required. Seating is limited. More information about the Heart of the City design process can be found here.