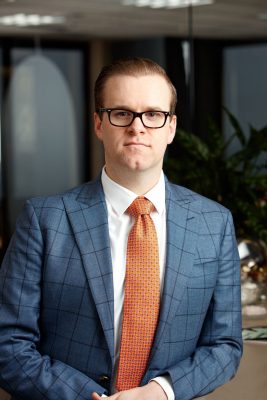 Destination Medical Center Economic Development Agency (DMC EDA) announced the appointment of Michael Flynn to the position of Senior Director of Economic Development. He previously held the position of Chief Operating Officer at the Economic Development Corporation of Utah (EDCUtah).
Flynn will lead DMC's business attraction and recruitment strategies and direct marketing strategies to attract new business to Rochester. He will report to DMC EDA's Executive Director Patrick Seeb.
"Our goal was to find an experienced person to advance the DMC initiative in the development community and attract new investors to Rochester," said Dr. Clark Otley, president of DMC EDA Board of Directors, Chief Medical Officer of the Mayo Clinic Platform and medical director of Mayo Clinic's Department of Business Development. "Michael's impressive background in economic development management and marketing will serve DMC well."
At EDCUtah, Flynn also served as Marketing Research Manager and led Utah's first Proactive Recruiting initiative in Southern California. He spent three years in Orange County increasing Utah's project inquiries from California and national markets. Prior, Flynn led corporate recruitment as Vice President of Client Services for North Carolina-based Charlotte Regional Partnership.
"Michael's proven record in business recruitment and innovative economic development strategies will be of great benefit to DMC and the greater Rochester region," said Patrick Seeb, executive director, DMC EDA. "His expertise will complement our team's strengths and help to realize our community's vision."
Destination Medical Center (DMC) is a 20-year, public-private partnership, and economic development initiative. The $5.6 billion plan is the largest in Minnesota's history and one of the largest currently underway in the U.S. The partnership, which began in 2013, combines Mayo Clinic private development with that of other developers and investors, in addition to public infrastructure investment from the city of Rochester, Olmsted County, and the state of Minnesota.
The first five years of the DMC initiative (2015-2019) attracted $963 million in private investment to Rochester, which leveraged $98 million in public investment. Now in its second phase, progress continues on several projects in the city's downtown core.
"We welcome Michael and his family to Rochester," said Rochester Mayor Kim Norton. "I look forward to our continued work with DMC by strengthening our community through collaboration and leveraging this one of a kind opportunity provided by the DMC initiative."
Flynn will start his new position at the DMC EDA on October 11. He earned a bachelor's degree in marketing from the University of Utah and an MBA from Westminster College in Salt Lake City. He and his wife, Lindsay, have two children.