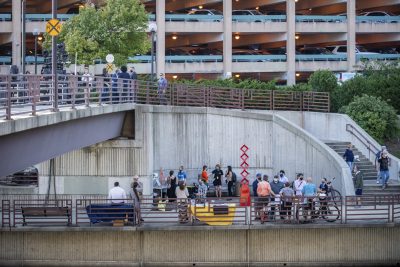 Rochester caught a glimpse of its potential future at the 2021 DMC annual meeting, thanks to a large-scale, interactive prototype of a reactivated Zumbro riverfront. In the late afternoon, information booths dotted the pathway between 4th Street SW and 2nd Street SW and sparked thoughtful, educational interactions between attendees and stakeholders from every facet of the community.
Everything from nature to transportation, from history to diversity, was up for discussion.
Karli McElroy, Director of Operations at Rochester Downtown Alliance, came face-to-face with things you wouldn't want to swim in when she and the Clean and Safe Ambassador Program cleaned the downtown section of the Zumbro River this September. Her booth displayed a host of trash from that clean: golf balls, cones, rebar, fence posts, and more.
"We know that cleaning is the first step in activating anything," said McElroy. "Then, what we look at is: what are some ideas that people have for the river downtown?"
To gather those ideas, a co-design methodology has been adopted, a prospect that excites Dee Sabol, executive director of the Diversity Council. She was educating attendees about the importance of gathering more input.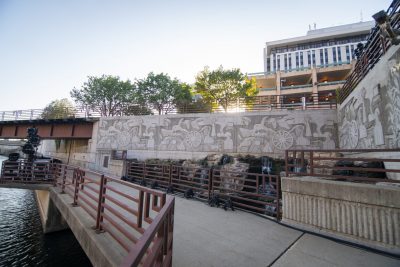 "Thinking about a small area project like this, or other options to engage differently around water presents tremendous opportunities for engagement. And we'll miss that opportunity for sure if we really aren't engaging across cultures with people," she said.
The river has always played a crucial part of Rochester's history, as evidenced by Engagement and Events Coordinator for The History Center of Olmsted County Abby Currier's mini-art tours of an 81-foot concrete mural.
"Everything's dependent on the river. The agriculture is dependent on it, the industry is dependent on it; everything comes back to that. That's really what the mural depicts," said Currier.
A local artist created the mural in 1984. It depicts the history of Rochester, from Native Americans to the introduction of IBM and Mayo Clinic. A mill wheel represents the circular nature of time.
Among the most unique learning tools was a scaled model of the Driftless Watershed constructed entirely out of Legos. Dylan Blumentritt, geoscience professor at Winona State University, says the model illustrates how streams and rivers are affected by what happens miles away from them.
Blumentritt's point was backed up by Stephanie Hatzenbihler, an environmental education specialist for the Public Works Department. Her department's adaptive storm drain program asks residents to keep their storm drains clear of things like clippings, leaves, car oil, or anything else you wouldn't want to swim in, since Rochester storm drains flow directly into the Zumbro River without treatment.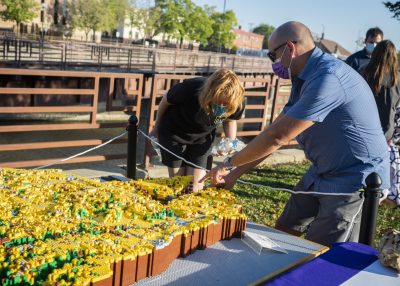 From a public transit station to bicycle and Lime Scooter booths, all options for moving along this artery of the city were also in the discussion, including the Rochester Rowing Club and the Silver Lake Paddle Boat company.
All of these facets will have to combine to create an inviting, exciting waterfront, but the demand is there. Pamela Caserta Hugdahl, executive director of the Rochester Art Center, was promoting the Art4Trails program at her station, and echoed the desire for more riverfront activation. The success of this summer's Night Markets is testament to that, as is the long-running success of Rochester Civic Music's Down by the Riverside concert series, which, according to interim general manager Chris Alcott, has been "activating the river before it was cool."
The evening concluded with an elaborate multimedia experience meant to leave a lasting impression. Scored by local underground synthesizer virtuoso Fires of Denmark, a coordinated array of colorful lights danced across the government center and reflected over ripples in the river while attendees wandered around, capturing memories and finding new ways to see the water.