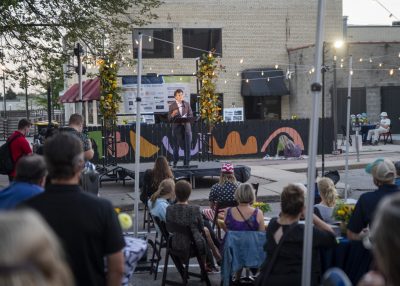 Bookended by immersive riverfront experiences, the commentary at the 2021 DMC annual meeting imbued audience members with messages of civic pride, optimism, and hope for the future.
Speaking to the masked, socially-distanced group of stakeholders and community members were DMC Economic Development Agency (DMC EDA) Executive Director Patrick Seeb, DMC EDA Board President Dr. Clark Otley, Rochester City Council President Brooke Carlson, and DMC Corporation (DMCC) Board Chair R.T. Rybak.
Seeb began the evening by voicing gratitude to those present, a conglomeration of representatives from all levels of government, neighborhood leaders, community organizations, businesses, and individual citizens. All of them, he joked, are "rowing in the same direction (if I can use a river metaphor) to build a stronger, more vital community that lives up to the authentic brand of America's City for Health, America's Med City."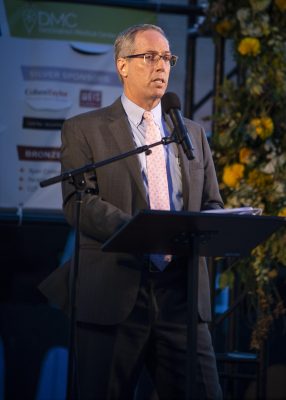 Dr. Otley, a dermatologic surgeon, Chief Medical Officer of the Mayo Clinic Platform and Medical Director of Business Development, spoke next.
He celebrated his friend and mentor Jeff Bolton, the soon-to-be-retired Chief Administrative Officer of Mayo Clinic.
"Jeff's fingerprints are all over the DMC best of class results," he said, touting $1.1 billion in private investment, thousands of quality new jobs, Discovery Square's rise as a hub of biotech activity, and the ongoing improvements to Heart of the City.
He credits that success to a compelling value proposition and vision built around world class assets and Rochester's simultaneously Midwestern and international spirit.
"This world is a changed world. People can live anywhere they want and work anywhere they want. We need to make a compelling argument and have a compelling city so that people choose the city of health as a place to raise their families, live, and work," said Dr. Otley.
That choice will be easier because state government leaders took a thoughtful, proactive, and holistic look at what the city needs to realize its potential, he said.
"Mayo's commitment to DMC and to Rochester is very strong," he continued, using as evidence a pair of buildings going up, one a flexible research facility in Discovery Square, the other an addition to the proton beam therapy facility.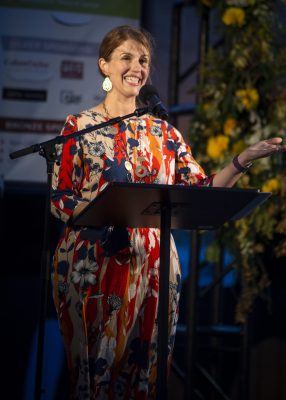 When Rochester City Council President Brooke Carlson spoke, she posited that shared values like affordable living, quality services for quality living, economic vibrancy, and growth management give the community a common foundation to work from.
Carlson, a member of the DMCC Board, thanked the participants of the riverfront walk for an inspiring, energizing experience, then extended those thanks to the community for rallying during the COVID-19 pandemic.
"Your participation in this year's DMC annual meeting is also indicative of something I've come to admire greatly about our city – the way that our community rallies around challenges and opportunities, opportunities for today and those within our grasp for tomorrow," she said.
While some DMC initiatives are measured by figures and footings, Carlson expressed excitement over the growing number of women and minority-owned business enterprises that participate in DMC projects, as well as an embrace of co-design methodology.
"We're creating a pool of people who can play an even greater role in Rochester decision making," she said.
The evening's final speaker was DMCC Board Chair, R.T. Rybak, who began his remarks with a memory from the depths of the pandemic. His family had decided to escape a dreary, troubled day in Minneapolis by checking in on Rochester. What they found re-ignited his spirits.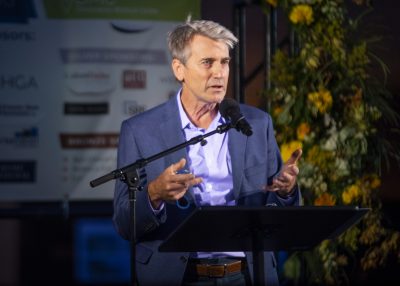 "We happened to get there right as the trees were coming to Peace Plaza," said Rybak. "And these huge trees, these trees that will be around for a generation, were being put in the ground around this incredible design Shane Coen [of Coen + Partners] did down there. And I just looked at it and, 'thank God something is working.'"
He pointed to the investment dollars, connective tissue between downtown regions like Discovery Walk, Heart of the City, and Soldiers Field, and predicted bigger things on the horizon.
Then, he turned to the river. Though his wife grew up in Rochester, he said, she never mentioned it to him.
"That's going to change. This is a memory village for the next generation," he pledged. He looked out and saw someone from Forager Brewery in the crowd.
"We're sitting on a parking lot right now on that river," he said. "I want to be sitting on a patio with one of your beers overlooking this river."
Rybak concluded his speech with a call to action:
"We want to ask you today, are you ready to recommit to this vision? Are you willing to say, 'We've come a long way?' But are you willing to say, 'We ain't seen nothing yet?' I'm willing to do that. I hope you are too. Let's get some more work done," he said.